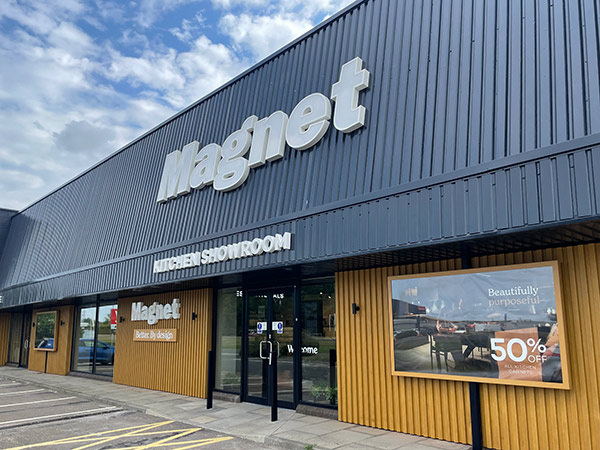 Magnet has announced that it is currently in the process of restructuring its business and that some redundancies have been proposed.
Some Magnet employees have already started posting on social media that they are looking for new positions after receiving the news.
A spokesman for Magnet told kbbreview: "Magnet is undertaking a restructuring to ensure organisational efficiency as we capitalise on the potential of the brand, adapt to market conditions and deliver on the long-term strategy of repositioning the brand and investing in an enhanced customer experience.
"Regrettably, this has resulted in some proposed redundancies."
The company did not reveal how many potential redundancies there might be.
In its statement, Magnet also said that there were currently no plans to close stores and pointed out that it had only recently opened a new store in Salisbury.
According to its 2021 annual report, there were 196 Magnet stores, of which 159 have a builder concept and approximately 250 other retail stores. Just under half (42%) of sales were direct to consumers, with 35% to trade and 23% to projects.
The restructuring at Magnet follows the announcement by its parent company, Swedish kitchen giant  Nobia, that it plans to close two if its UK factories.
At the time, Nobia said that plans for the UK business are part of a wider programme of strategic and cost initiatives aimed at saving over SKr 300m (£23.55m) annually. This could mean the loss of 500 jobs across multiple Nobia brands and markets as well as its group central operations. The company was unable to confirm the number of job losses in the UK as the consultancy process is still ongoing, which includes the closure of the Dewsbury factory.
Nobia said: "In the UK we will reposition and exit unprofitable projects business to drive necessary profitability improvement and increase competitiveness," Nobia said. "The proposed changes, subject to customary union negotiations, include consolidation of the manufacturing footprint and flattening of the UK central organisation. It is proposed that the production sites in Dewsbury and Grays in the UK be closed."
Nobia also said that its decline in profits was due to higher supply chain costs in the Nordics and a weaker performance in the UK. The preliminary operating profit for the fourth quarter declined to SKr 25m (£1.96m)