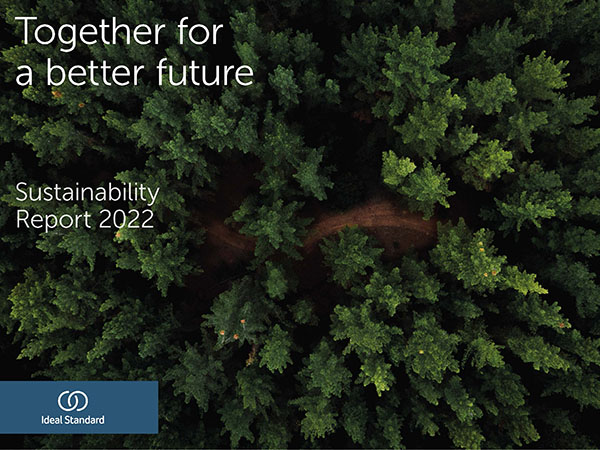 Bathroom products giant Ideal Standard has produced its first sustainability report summarising its progress so far and its commitment to reducing its impact on the environment going forward.
The company outlined its roadmap to carbon neutrality and pledged to achieve a 30% reduction by 2030 and complete carbon neutrality by 2050.
Speaking at a virtual press conference on Tuesday ahead of the publication of the report, 'Together for a Better Future', joint chief executive Jonas Nilsson said: "We are acutely aware of the challenges facing our industry today. We know that we have an important role to play when it comes to building a more sustainable future for the benefit of society.
"Our sustainability programme is focused on minimising the impact of our operations on the environment, promoting the well-being of our people and the communities in which we operate. Our sustainability programme is based around making continued step by step improvements to achieve higher goals."
Its new report highlights nine key points of commitment in Ideal Standard's sustainability programme.
These include a commitment to actively work toward carbon neutrality by 2025; to use recyclable and sustainably sourced materials wherever possible and to deliver innovative products that encourage sustainable living.
To improve people's lives, it has committed to foster growth in its employees; operate a gender- and ethnically diverse environments and maintain "world-class" safety standards.
Ideal Standard also committed to safeguarding supply chain resilience with robust governance in place and to deliver accurate and transparent ethical reporting to all stakeholders.
Emphasising that people are one if its most important assets, Nilsson said that the company revealed that it has reduced the number of accidents in its facilities by 35% in 2022 to one in one million hours worked. He added that more than one third of its senior leadership is female and that one third of its workforce is now female and the company saw a 10% increase in the number of female staff hired between 2019 and 2021.
Finally, Ideal Standard pledged to safeguard supply chain resilience and customer satisfaction.
The company said it has already saved 2,200 tonnes of CO2e by switching to renewable energy sources in its UK ceramic plants and generated 1.2 million kWh of onsite renewable energy from solar panels at its Wittlich plant.
It has also removed 80 tonnes of virgin plastics from its packaging, switched to 100% sustainable certified timber, recycled 11,000 tonnes of ceramic waste and removed 1.m kg of timber from its bathtubs by switching to Bagasse, which is a by-product of sugar production.
The presentation highlighted its new EcoLogic label, which it says allows consumers to easily identify our environmentally friendly products, pointing to innovations such as FirmaFlow cartridge technology for improved durability, Diamatec in its ceramics for thinner designs and better durability and BlueStart in its mixers to save energy.
The company also plans to have more than 5,000 cradle-to-grave EPD (Environmental Product Declaration) products by 2023, giving customers complete transparency on the entire life cycle of these products.
Summing up its goals for the future, Nilsson said: "We will continue the transition with the fittings business to 100% renewable electricity by 2025 and to roll out renewable electricity across the whole group by 2030, eliminate the use of all single-use plastic packaging by 2025. We want to achieve zero waste to landfill by 2030. We want to extend our EcoLogic programme that will deliver long-term, sustainability benefits for our customers. We also want to continue the expansion in numbers of female workers in our plants, and continue to focus on workplace safety and expand the range of EPDs to cover our full product scope.
"We are confident that with these and other initiatives in place and the momentum that we have built up and by working together, we can build a sustainable future."
Commenting on Ideal Standard's decision not to attend the forthcoming ISH show, Nilsson revealed that they would be unveiling new products at a pop-up store event in Venice for 200 key customers in April.
Ideal Standard International, whose brands include Ideal Standard, Armitage Shanks and Porcher, produces some 7 million pieces of ceramics, 7m pieces of fittings and 1m tubs and trays, employs more than 8,000 staff and is sold in more than 100 countries.