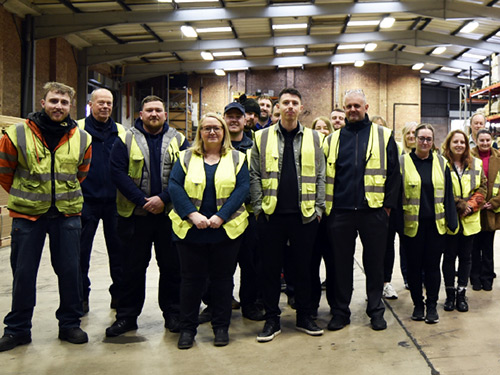 A Midlands-based worktop and decorative surface distributor, owned by the same family for over four generations, is becoming an Employee Owned Trust.
Previously a private limited company, Blackheath Products will become an Employee Owned Trust (EOT) during March 2023.
It holds over £7.5million of worktops, decorative laminates and solid surfaces, which it distributes to kitchen centres, shop fitters and furniture manufacturers across the UK and Ireland. The company has an annual turnover over £24m, and employs 60 staff.
Ian Foster, whose family owned Blackheath Products, said: "For over four generations, my family has worked with so many amazing colleagues. It is a privilege to be able to repay their contribution by offering all current employees the opportunity to make it their own business, within an Employee Owned Trust."
EOTs were introduced by the UK Government in September 2014 to encourage more businesses to structure their businesses in a similar way to 'the John Lewis model', enabling wider employee ownership through the award of indirect holdings.
The number of businesses set up this way more than doubling over the last three years.
Following an EOT, all employees gain an indirect stake in the company, with the desired outcome of greater employee engagement, more innovation and improved business performance.
Mark Murphy, managing director of Blackheath Products, said: "This is a fantastic opportunity for all of us at Blackheath Products. The Foster family has owned the business for over 90 years and their decision to transition the company to an Employee Owned Trust is driven by a passion to keep jobs in the West Midlands and continue to grow as an independent business.
"Our focus is now on our shared, exciting future, with everyone working creatively together to develop new products and services to support our customers and suppliers."