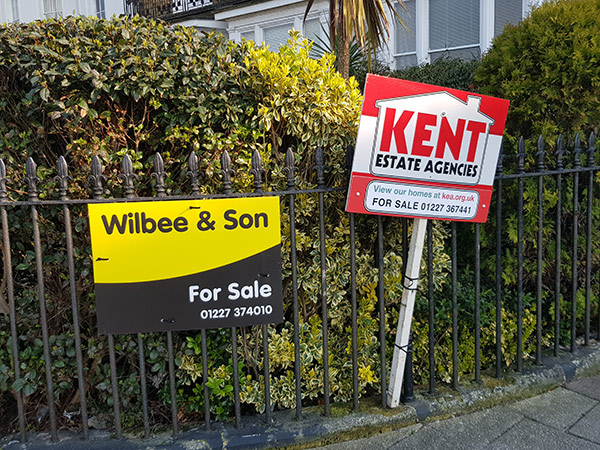 The rate of growth in house prices continued to slow in February as the housing market suffers from blows to consumer confidence.
In its monthly 'House Price Index' Halifax, one of the UK's biggest mortgage lenders, revealed that the annual rate of house price growth remained at +2.1% for the third consecutive month.
This means that the typical UK property now costs £285,476 compared to £282,360 for last month. This is up 1.1% from January's 0.2% and -1.3% in December 2022.
However, the picture across the country is slightly more nuanced. Annual growth reduced most significantly in the North East, at 1.1% in February versus a rise of +3.6% in January. Homes there cost an average of £163,953.
In contrast, average house prices in London are now £526,842, down by 0.9% over the last year.
Average growth fell the least in Scotland – 2.2% in February versus 2.3% in January – and Wales saw annual growth of 1.2% against 1.9% in January.
Northern Ireland saw the best performance in terms of growth, with an average of 5.7%, but that was still a drop from the 7% in January.
By property type, prices of flats are now into negative territory over the past 12 months with a 0.3% fall in annual growth, while prices for terraced properties have broadly stagnated at +0.3%. For detached properties, these have increased by just 1.5% on the year, the lowest rise since the end of 2019.
"Recent reductions in mortgage rates, improving consumer confidence, and a continuing resilience in the labour market are arguably helping to stabilise prices following the falls seen in November and December." Said Kim Kinnaird, director of Halifax Mortgages. "Still, with the cost of a home down on a quarterly basis, the underlying activity continues to indicate a general downward trend."
Iain McKenzie, CEO of The Guild of Property Professionals, says: "House prices continue to defy the gloomy forecasts that we were seeing a few months ago and are remaining buoyant for the time being.
"In fact, February even saw a slight increase compared to last month, while annual prices show a cooling effect in the market.
"While some buyers may be hoping for a more dramatic readjustment in house prices, it means that you won't find yourself in a position where the value of your property falls as soon as you sign on the dotted line.
"Homeowners who are looking at selling this year have been worried that they may have to sit tight, but the figures suggest that many may still get the asking price they were hoping for.
"The story isn't over yet though and we will likely see some further readjustment in prices throughout the year, as pressure from living costs squeeze household budgets."