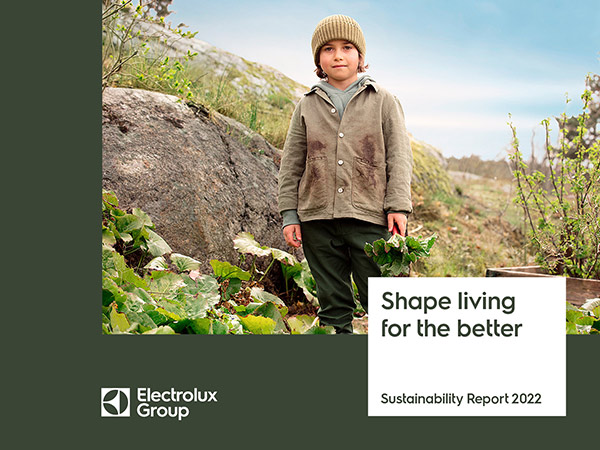 The Electrolux Group has beaten its own sustainability goals for the third year running, according to its 2022 Shape Living for the Better report.
The group had set itself a target to reduce Scope 1 and 2 greenhouse gas emissions by 80% by 2025, but exceeded that with an 82% reduction in 2022.
In terms of Scope 3 emissions, Electrolux Group achieved a reduction of more than 25% compared with 2015, an improvement of 5% over 2021 and in line with its 25% target for 2025.
The report shows that the Electrolux Group is now three years ahead of plan. In 2018, it was one of the first businesses to set itself global science-base climate targets and the group says to be among the first to meet its goals.
Commenting on the achievements Electrolux UK and Ireland general manager Luke Harding said: "By setting bold science-based targets, companies are able to show their commitment to do their part in keeping global warming below 1.5°C in line with the Paris Climate Agreement. I'm extremely proud of the work that we have put in across the last year that has meant we have been able to achieve our climate targets ahead of plan. We all have a responsibility to reduce our carbon footprint, and sustainability remains at the forefront of our work."
He added: "Not only does our sustainability framework help us maximise our contribution to society, it also flows through each area of our business, and we will continue to adapt our approach to sustainable innovation to meet the needs of future generations."
The report also highlighted other achievements, including the fact that 35% of the company's ocean cargo is now transported using more sustainable fuels, 98% of the electricity it uses comes from renewable sources and that the inner liners of its new built-in refrigerators in now made from 70% recycled plastic. It has also introduced its first vacuum cleaner produced without paint to reduce chemical use, energy and material impact.
The company launched its 'For the Better 2030' sustainability framework in March 2020. Commenting on its progress so far, Harding said: "For the Better 2030 continues to drive our business toward climate neutrality and circularity between 2020 and 2030 and across the value chain by 2050. The framework consists of our very own climate goals, all of which will help us achieve a 'Better Company, Better Solutions and Better Living' within society."
The company has also launched a toolkit for teachers through the Electrolux Food Foundation to educate children about sustainable eating, with 88,000 children so far having become 'food heroes'.