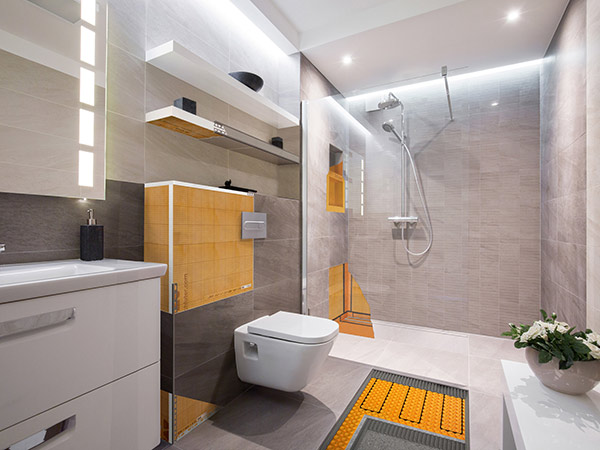 Schlüter-Systems is expanding its UK presence by working with more premium bathroom retailers and installers.
The family-owned German company produces a wide range of products designed to facilitate the long-lasting installation of tiles and natural stone, including trims, waterproofing, underfloor heating and wet room drainage systems.
The company's vast range of products offer premium bathroom retailers a range of possible add-on sales to raise average customer spend, while its underfloor heating could also be of interest to kitchen retailers.
The company says that its range of products means that retailers can simplify their supply chain by buying from Schlüter-Systems rather than several different suppliers.
The Schlüter-Systems team in the UK started working with premium bathroom showrooms last summer and already has partnerships with multi-branch players such as CP Hart and West One, as well as showrooms including Warren Keys Bathrooms of Man in the Isle of Man, Studio One South West in Plymouth and The Water Gallery in Esher.
Schlüter-Systems has a centrally-located UK base in Coalville, Leicestershire, with stock leaving regularly for next-day delivery.
Commenting on the company's plans for the UK, head of marketing Sarah Holey said: "While our existing routes to market remain important to us, we feel that our offering is ideally suited to premium bathroom showrooms and installers, so it was the natural next step for the brand in the UK.
"Our products are designed to work together as a system – hence our name. Rather than bathroom retailers buying from several different suppliers for what we do, everything is simplified by coming through us. By working with Schlüter-Systems, retailers only pay for one lot of delivery costs, can reduce their admin and have one point of contact for any queries. We've also heard from retailers that have worked out they can fit up to six additional bathrooms in a year."
To support its retail partners, Schlüter-Systems is launching a new website this summer and opening an extended training centre at its UK HQ later this year. It also offers in-the-field support on projects, if needed.
"Our experienced technical team can offer advice on product suitability and we'll even visit a property to check how the installation is going, if required," said Holey. "Ultimately, we want to ensure that tile and natural stone installations stand the test of time."
Schlüter-Systems is also one of the sponsors for this year's kbbreview Retail & Design Awards 2023, which take place on Thursday next week, April 20, in Cardiff.
Schlüter-Systems is our Grand Prize Partner for a competition on the night that will see one lucky attendee walk away with £5,000.