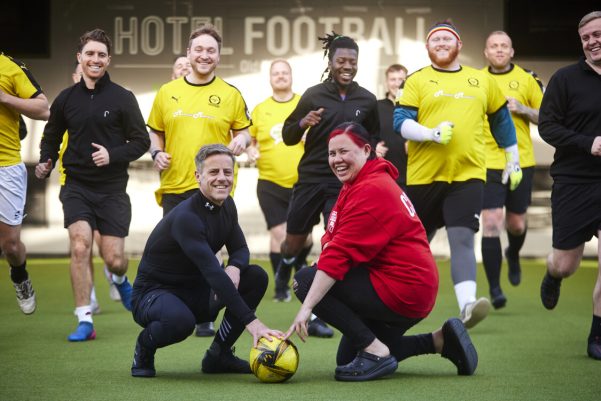 Quooker has announced it will be the headline sponsor at the MAN v FAT Football National Awards, taking place later this month at the National Football Museum in Manchester.
The MAN v FAT charity is specifically aimed at encouraging overweight and obese men to lose weight through implementing healthy lifestyle and diet changes. The charity programme requires participants to take part in a weekly six-a-side football match, where players are weighed before each match. Participants who have lost weight have extra goal bonuses awarded to their team, and their weight loss and match scores contribute together to participants' league positions within a club.
The FA-affiliated MAN v FAT scheme currently has over 8500 players taking part across 170 UK clubs, and the charity's Football National Awards will be recognising players who have achieved the greatest overall weight loss this year, as well as contributed most to their local clubs. Award categories at the event will include Team of the Year, Amazing Loser, Best New Club and Coach of the Year.
To celebrate the upcoming sponsorship, Quooker staff, along with the company's managing director, Stephen Johnson, recently took part in a five-a-side match against the MAN v FAT Salford club at Hotel Football in Manchester.
Speaking about the sponsorship deal, Quooker UK MD Stephen Johnson said: "We are delighted to be able to support MAN v FAT Football and its national awards. At Quooker, we believe in promoting and supporting a healthy physical lifestyle and mental wellbeing. The achievements of the guys at MAN v FAT, not just in weight loss but in improving their whole sense of wellbeing, is something that deserves to be acknowledged and shouted about. We're looking forward to a great evening celebrating their successes with them."
Richard Crick, head of MAN v FAT football, added: "Because of the pandemic, this is the first time that we have been able to have an in-person awards event on this scale and the support of sponsors has been critical in enabling us to do that. To have a brand like Quooker on board is something we're really excited about. Not only are they based in Manchester, where the Awards event will be held and where we have more than 500 guys playing in MAN v FAT Football clubs every week, but the synergy between their mission and ours will make it a great partnership."