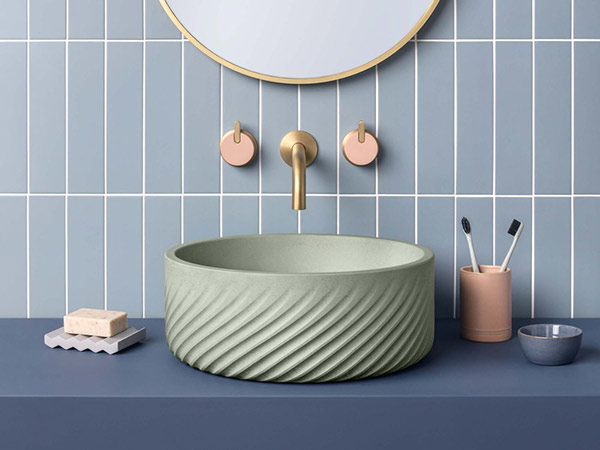 American bathroom giant Kohler has acquired UK-based Kast Concrete Basins, which will join the company's growing 'Luxury Brands' portfolio.
Kast Concrete Basins specialises in design-led, contemporary concrete basins, manufactured in its factory on the edge of Sherwood Forest.
It was founded 12 years ago by Tim Bayes who grew up in Switzerland and was inspired by their use of concrete and how they manipulated it into unique shapes and forms and was convinced it could be the ideal material for interior products too.
Its basins come in 28 colours and are sold throughout the world, including Europe, China, the Americas and Australasia.
Kast Concrete Basins will join other brands in Kohler's Luxury Brands portfolio, including Ann Sacks, Hytec, Kallista, Mira, Robern and Stirling.
Kohler president of Luxury Brands Bonnie Choruby said: "Kohler pioneered vibrant, colourful products to great acclaim as far back as 1927, and has progressively introduced innovative designs, materials, and finishes that help customers make a design statement in their spaces.
"Kast shares that same mind-set and is a perfect fit for our Luxury Brands division. Not only does the brand bring a new material to our portfolio – concrete – but also the colour and refinement expertise that is evident in the unique shapes and forms of its beautiful basins."
Going forward, Tim Bayes will serve as Kast Concrete Basins' managing director and head of creative.
"We are thrilled to join the Kohler organisation, a highly admired multinational company that has achieved 150 years of unparalleled innovation and growth," he said.
"Everyone at Kast Concrete Basins also has the passion to innovate relentlessly, and we couldn't be more pleased to now be a part of the Luxury Brands division that includes like-minded brands and the resourcing to accelerate global expansion."
It is not the only UK-based investment from Kohler in recent months. In March, Kohler Mira officially opened its new multimillion-pound national distribution centre in Worcester,
Kohler, which is based in Kohler, Wisconsin, was founded in 1873 and claims to be one of America's oldest and largest privately held companies, with more than 40,000 employees and more than 50 manufacturing locations worldwide.
Herbert Kohler, chairman and grandson of founder John Michael Kohler died in September last year aged 83. He had worked in the business for 61 years.