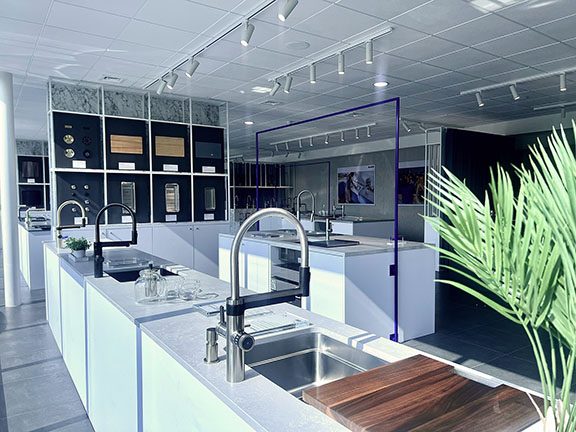 German sink and tap manufacturer Blanco has shown its commitment to the market by redeveloping its UK showroom into a brand experience centre.
Located at Blanco UK's HQ in St Albans, the 2,900 ft² brand experience centre has been developed specifically for its network of over 3,000 retailers and merchants across the UK who will have access to the new facilities for training and demonstration purposes.
Although they can't buy direct from the showroom, consumers can book a free consultation service at the showroom to gain a better understanding of Blanco's products and where they can purchase them.
Speaking at the launch of the new facility, Blanco group's chief officer Frank Gfrörer explained explained that the opening of the new brand experience centre highlighted Blanco's commitment to the UK market and also represented its evolution from a components provider to a systems provider for the marketplace.
"Blanco has a strong reputation in the market. We are an accepted player in the residential kitchen area but we are aiming for more," he said. "We want to be the leading brand for kitchen waterplaces in residential kitchens. We don't want to sit on our success from the past, we want to move forward."
Discussing the new brand experience centre, Blanco UK managing director Neal Jones said: "We're excited to have developed our old showroom into a new brand experience centre which will provide customers with a physical experience to inspire their kitchen designs. The opening of the brand experience centre is a shift for the business and marks another step in Blanco becoming more consumer-centric within the UK and increases the opportunities for us to interact with consumers directly.
"As well as benefiting the end consumer, the improved facility in St Albans will allow us to support our partners with a heightened training experience on Blanco and the premium messaging behind the products. It will enable them to see first-hand how in-store displays and POS materials should look and how the brand should be discussed, in turn setting them up as experts for selling Blanco within their own showrooms."
As part of its strategy to become more consumer-centric Blanco UK has announced TV presenter, Laura Hamilton, recipe book author, Melissa Hemsley and TV personality and architect, Laura Jane Clark as UK brand ambassadors.
As the first ever UK brand ambassadors, the panel of experts will work alongside Blanco on a consumer facing media campaign to highlight the brand's range of industry-leading products.
The launch of the brand's first experience centre follows a year of record business success for Blanco group, in which 2022's global turnover increased 2% to €493 million in what the brand's chief officer, frank called a "year of transformation."