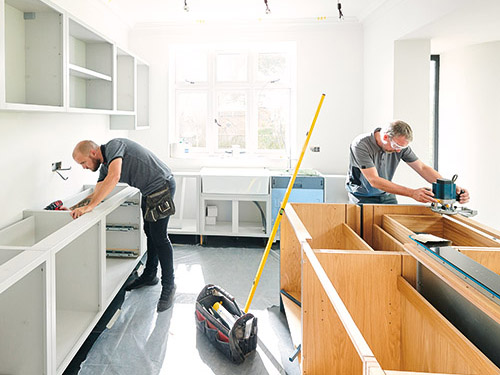 The ongoing problems surrounding securing a KBB installation sector that is fit for the future has lead to a new focus on formal skills training. The industry faces an "unprecedented challenge" and must focus on education to plug the skills gap, the industry's installation body has said.
The British Institute of KBB Installation has unveiled its first BiKBBI Education Steering Committee which it describes as "a forum for all areas of the industry to discuss, debate and decide on key topics that will work towards solving the mounting skills gap crisis and build a legacy to ensure a sustainable workforce for the future."
It will primarily concentrate on apprenticeships, Continuous Professional Development and retraining.
It is part of its ongoing strategy to build a sustainable workforce of the future for the KBB installation sector. At the BiKBBI's conference in January, CEO Damian Walters issued a detailed stark warning to the industry, saying it was 'failing'.
Hear Walters give his damning evaluation from that conference in this episode of The kbbreview Podcast.
At the launch of the new committee, Walters said: "With an aging workforce and declining numbers of compliant installation specialists, our industry faces an unprecedented challenge.
"For many years our focus has been firmly on education and the development of a sustainable pipeline of professional installers for the future. As such, we collaborated with key strategic partners to build a modern, fit-for-purpose apprenticeship programme for fitted interiors and we also launched the BiKBBI employer support service in 2021.
"But there is still much to do to deliver the workforce to meet demands of the future, both in terms of numbers and standards, and education, learning and development should be at the top of the agenda for all stakeholders – ultimately, how we handle the current skills gap will impact all areas of the industry."
The committee is made up of 11 members and was assembled via a targeted recruitment process to ensure epresentation from all areas of the sector. The chair will be Hannah Hockley from TAP, BiKBBI's appointed apprenticeships partner. Board members include Tom Reynolds (BMA), Jerry Whiteley (CiPHE), Lisa Williamson (Achieve + Partners), Barry Moss (LEAP), Andy Rayner (Travis Perkins), Stephen Johnson (Quooker), Emma Leech (Howdens), Carl Terlecki (Terlecki Limited), Kerry Wilson (BMF) and Rebecca Bertram-Smith (The Furniture Maker's Company).