To mark its 20th anniversary, British bathroom brand Victoria + Albert has opened a new specification showroom in Galleria Meravigli, in the centre of Milan, Italy.
The launch of the 250sq m showroom in Milan, designed by Italian design studio Meneghello Paolelli Associati, reflects the company's ongoing investment in the contract market and is the brand's first showroom located outside of the UK.
Open six days a week to architects, designers and consumers, the showroom features lifestyle displays of the brand's portfolio of baths, basins, furniture, accessories and brassware in a variety of finishes.
Products from Victoria + Albert's permanent brand partner, shower tray manufacturer Fiora, will also be displayed in the showroom.
The showroom also features a separate architect meeting zone and an "Expo" area where brands, artists and makers can display their work. The first month's collaboration will be with mosaic artist, Orodè Deoro.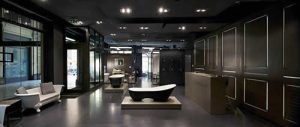 Victoria + Albert opened its first specification showroom in London's Chelsea Harbour Design Centre in September 2014.
Speaking to kbbreview at the showroom launch, Victoria + Albert's commercial director, Edward Davies, said: "The launch of this showroom, post-Brexit, shows our statement of intent. It's a rubber stamp on the fact that we see business as usual and will continue to invest in the brand and our customers.
"We see Milan as the design capital of the world, so it was a logical step to open a specification showroom here in the heart of the architect and design community.
"This showroom, like our one in Chelsea Harbour, is part of the natural progression of this, growing business enabling us to display a broader range of V+A products. We hope the showroom will attract architects, designers and consumers, to spend quality time with our products and to understand the brand better."