Dream Doors has reported that overall group turnover at the end of September hit £28 million, with turnover predicted to reach £40m by the end of the year.
The company also announced the sale of its 50,000th kitchen makeover. The sale was made by Helen and Phillip Mahon, owners of the Dream Doors franchise in Norwich. The couple has owned the branch since 2007 and it is said to be one of the strongest performers in the Dream Doors network.
"2016 is going to be our best year ever, even better than we forecast at the start of the year," said Troy Tappenden (pictured top), managing director of Dream Doors. "For the entire network to sell 10,000 kitchen makeovers in around a year, shows the strength of our business model and the collective hard work across our franchisees, which now number more than 70. Kitchen makeovers are such a straightforward idea – we know our audience and what it is they want, and we give our franchisees the training, tools and support required to deliver that to their customers."
Meanwhile, Dream Doors has also recently selected ArtiCAD as its CAD partner for its headquarters and UK network of franchisees.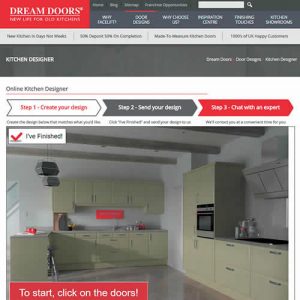 It has invested in three products, ArtiCAD-Pro – a flagship KBB CAD design software, Room Styler – the visualisation tool, and Pan360 panoramic viewer.
At the Dream Doors HQ, ArtiCAD-Pro will enable the company to build a kitchen for each of its doors, allowing customers to see the different styles and effects. The Room Styler will be used as a 'teaser' to generate sales leads for the franchise network.
Mark Kennard, SEO executive at Dream Doors, said: "We are keen to push CAD as a sales tool to our network of franchisees. Although all our franchisees are independent businesses, that are free to make their own choice of software, the ones already using the ArtiCAD-Pro software are ranked among our top performers in terms of their sales success. We were also acutely aware that those using a different CAD package had received extremely poor levels of support from the supplier, with several of them giving up using the software altogether. ArtiCAD was clearly a company that could provide great support for our customers, combined with a product that was extremely simple to use."
All new franchisees will receive ArtiCAD-Pro as part of their contract with Dream Doors, with an option to take on RoomStyler and Pan360 if they choose. All training and support for the Dream Doors franchise network will be provided directly to them by ArtiCAD.