The perfect fit?

Sheffield-based sliding wardrobe specialist, Home Decor has acquired kitchen retail brand Optiplan and furniture manufacturer, The Manor Cabinet Company, in a bid to expand its presence in the KBB sector. Rebecca Nottingham meets CEO Max Crosby-Browne (pictured right) and sales and marketing director, Mark Gledhill (pictured left), to hear more about their new kitchen division and their plans to make Optiplan a nationwide brand
Despite having built a highly successful, £30 million, sliding wardrobe business manufacturing from its production facility and HQ in Sheffield, Home Decor has flown pretty low under the KBB industry radar.
That is until June this year, when the company revealed plans to target the kitchen market through the acquisition of independent kitchen retailer Optiplan, and its chain of 11 showrooms in the South-East, along with Swindon-based kitchen manufacturer, The Manor Cabinet Company and its retail operation, Manor Interiors.
The kitchen division, which will operate under the Optiplan brand, is headed up by Home Decor's existing CEO Max Crosby-Browne, with Home Décor's current commercial director, Mark Gledhill, taking on the role of sales and marketing director.
It's also worth pointing out that, rather than resulting in redundancies, like so many acquisitions and mergers do, the launch of Home Decor's new kitchen division has actually created jobs within the business. Julia Steadman, ex-Poggenpohl UK sales director, has joined the business as head of showrooms and Matt Norman, the manager of its Swindon outlet, has been promoted to the position of area manager.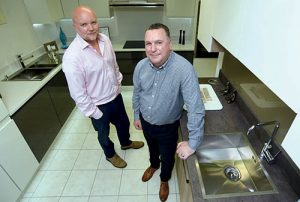 It's not hard to see the motivation behind Home Decor's decision to strike up this specific deal with the owners and founders of Optiplan, Bernard Deasy and Gareth Jenkins and The Manor Cabinet Company directors, Terry McPartlan and Irene Smith. All of them stayed on as consultants to oversee the integration phase, emphasising the amicable nature of the arrangement.
The deal has significantly increased the company's annual turnover by £20m, but the reasons why it was such a logical move don't end there. Home Decor has inherited a 32 year-old retail brand with 11 showrooms and a 20-year-old bespoke, manufacturing business with three showrooms and a network of independent dealers behind it, catapulting the business right into the heart of the kitchen market.
Crosby-Browne says: "We're manufacturers at heart, so we knew we wanted a business that was manufacturing-based and, specifically, one that was already operating in the contract side of the market, so that there would be an automatic synergy with the bedroom unit. We started looking at options in the kitchen market at the back end of 2014 and met with the founders of Optiplan, who were looking to take a step down, in the autumn of 2015.
Ninety per cent of furniture sold through Optiplan showrooms was made by Manor, and Gareth and Bernard were shareholders in the Manor business, so there was an equity link between the two companies. It became clear that acquiring these businesses was a logical, strategic fit, because it would give us that manufacturing element, a significant independent retail business and inroads into the contract sector. We weren't interested in one business without the other, so it had to fit together as one deal."
"This acquisition is a hugely exciting move for Home Decor and an important strategic step in achieving our growth plans," adds Crosby-Browne. "We will now have two distinct business units, a kitchen and a bedroom one, which together can offer customers a more integrated KBB offering. The three businesses are a great fit in terms of culture, product offering and market sectors."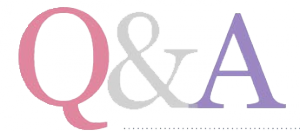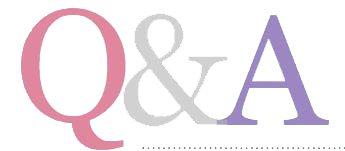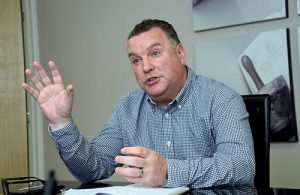 Q: How has the integration of the three businesses gone?
Max Crosby-Browne: The initial part of the strategy is that Manor and Optiplan are coming together as one organisation. That's a complicated process, because for 20 years they've been working as customer and supplier. It's all going well, but in the short term that's probably the biggest culture change, because now they'll all be colleagues. People-wise, obviously it's been tough for the founders of both businesses. They built them up from scratch, so it has naturally been hard for them to walk away. But other than that, it's all gone very smoothly. We've had no dramas at all.
The beauty of this acquisition is that both businesses were successful and busy in their own right, and rather than fold one business into another, we've effectively just taken the two and created one kitchen business. So there were no duplicate roles and zero redundancies. The biggest challenge is creating one blanket back-office/IT system. It's a huge project and, until it's sorted, there is a slight slowdown on how things function in the short term. It's a significant investment, but we hope to have it completed by the second half of 2017.
Mark Gledhill: Part of my role as sales and marketing director for the kitchen business has been to manage the integration of Optiplan and Manor into one and also merging that combined business into the Home Decor Group. The kitchen business will operate under the Optiplan brand, because of the legacy and heritage associated with it.
Q: What are your plans to take the kitchen business forward?
MCB: We have 14 wholly-owned showrooms and seven independent partners that we supply through our Manor business. For now, the target is for no more than four more of our own showrooms. That could change moving forward, but at the moment that's the figure. It's about choosing the right geographical hot spots and that's not going to be difficult, because there are just so many key areas of the UK that we're just not in yet. Where we expand to will also be determined by whether there's a house-builder partner there that wants to work with us, either on kitchens or bedrooms, or both.
MG: We want Optiplan to be a nationwide brand. To do that, we have to expand it to beyond it's current base in the South. We want to grow the network and that will be by opening up our own Optiplan showrooms in specific locations in the North, either through acquisition or by finding suitable premises, and by looking at what we, as a kitchen manufacturer, can offer retailers through a dealer programme. We'll run those alongside each other.
Q: Do you intend to invest in the showrooms you've already got before expanding?
MG: Definitely. We've just kick-started an internal product review and, to make our offering more simple and to meet current trends, there will be some rationalisation and some new products, including new appliance, sink, tap and worktop brands, etc. Showroom refreshes will also happen over time. The Manor showrooms will have to be redesigned and rebranded in line with the Optiplan network and, across the board, all of the showrooms need to be more consistent in terms of layout, brands and displays. We want our customers to get the same experience in all of our showrooms, but each one will be tailored to the needs of the local audience.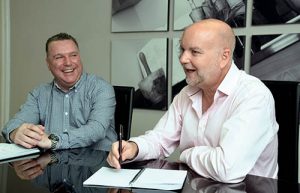 Q: What is the dealer programme and where does it fit into the new business?
MG: The Manor Cabinet Company had three of its own showrooms, but was also a supplier to other independents, including all 11 Optiplan showrooms. Even though a number of them are solus Manor retailers, I don't think you could call it a dealer programme, because the business hadn't done a great deal to support them, other than to supply them with quality kitchen furniture. So, there's a big piece of work for us to do in terms of putting together the right support and marketing package in order to try to expand our dealer network.
MCB: The relationship we have with our seven independents is very good and, with what we have planned, I can see it getting stronger. First things first, we want to give our existing dealers the right tools and to reassure them that there is a solid, bricks-and-mortar strategy behind our partnership. The priority is to get that offering right for our current dealers, do it successfully and then we'll look at recruiting new ones. We don't have a target number or timescale on that yet.
Q: How important is the contract market to the growth of the kitchen business?
MG: Both Optiplan and Manor had built very successful contract divisions, so we have inherited a strong kitchen contract business. What we're seeing in that sector are builders and developers wanting to be serviced as if they were buying a kitchen from an independent. They want that same level of design and involvement in the process that you normally only get as a retail customer. As we have also inherited a strong retail business, built on quality customer service, this puts us in a really strong position.
Q: Having an 11-strong network of showrooms is impressive for an independent retailer. How did the team behind Optiplan manage to build such a large network?
MG: If it was just like-for-like kitchen replacement, I'd say we do a good job, but I don't think we're unique at that. But probably over half of our projects are kitchens as part of a bigger picture and that's really where our main skill set is. Service is what Optiplan sees as its heartland – installation and project management is what the business thrives on.
MCB: Optiplan has been going for 30 years and the business has relied heavily, and massively successfully, on local recommendations and word of mouth. What Home Decor brings to the party is that digital/consumer marketing/PR focus, because you can't just rely on word of mouth anymore. And equally, if, like us, you're going for some sort of national footprint, then that 'local independent' aspect doesn't work. A lot of what we're doing now is working on building that digital footprint in order for us to grow the business nationally.
Q: Do you worry, now Optiplan is part of a bigger organisation, that the showrooms will lose that independent feel?
MCB: That personal service aspect may go now that the founders won't be involved, but we have to be confident of what Home Decor brings to the business. Prior to the acquisition, Optiplan worked perfectly well, it had a great track record of growth but, that personal touch isn't scalable and wouldn't have helped make it a national player. Many of the principles will remain the same but, in order to do the things that we [Home Décor] want to do with it, we can't rely purely on that way of running things.
Q: What's your view of the kitchen market at the moment?
MG: It hasn't really changed much in the 10 years I've been away from it. Sure there are some new fascias and some trends have changed, but it's not dramatically different. There doesn't appear to be an awful lot of innovation around, from what I've seen so far. From a market perspective, what's changed is that the likes of Howdens, Wickes, Wren, etc, have certainly upped their game in terms of product and design and they appear to be trying to do the same from a service point of view. But, I think the service aspect is where they will always fall down against independents.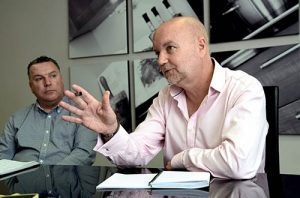 Q: Is it the service proposition that attracted you to get into the kitchen sector via the independent route rather than through multiples?
MCB: When you're a huge, multiple retailer, then by definition managing all aspects of service is a constant challenge and it's one of the reasons that, to grow our bedroom business, we've had to change our offering as a supplier. Part of the attraction of acquiring an established independent retailer and a modest-scale manufacturing plant was that we could still control the level of service we offer. Everything will stand or fall on our ability to sell, design, install and deliver because, ultimately, from a consumer perspective, there probably doesn't appear to be anything hugely different between our product and others out there. It's really the design and service you offer at a retail level that differentiates you.
Q: How does your furniture stand up against German and Italian brands?
MG: That's a question you need to come back and ask me in 12 months' time because, having just come back to the industry, there's quite a lot of work to do on that assessment. Based on what I've seen, our products are as good, if not better, than most of the brands out there. The fact we can manufacture bespoke elements and create made-to-measure kitchens, gives us a real edge. Our four-week lead times are pretty attractive too. Remedial work is always an issue for companies importing, but we can potentially get a replacement sent out the next day.
Q: What are your financial targets for the kitchen business?
MCB: We have a three-year financial projection, but it will be what it will be, based on the business opportunities we are successful in pursuing. We could easily double the size of the business by having three very successful years in the contract sector and sure, we could add on four more showrooms and, if they're broadly as successful as the 14 we already have, then we could increase turnover that way. Our short- to mid-term plan is to expand the factory to help improve efficiency and help deliver that growth, and then keep a watching brief in terms of what we need to do.
We have high hopes for cross-fertilisation on the contract side with the bedroom and kitchen businesses. There are an awful lot of internal synergies we can look at too, such as transport, logistics, components and materials, that will help us create a more efficient business.
We want customers and suppliers on the kitchen side to know that Optiplan is an ongoing, thriving business that's looking to grow and that we are open to building partnerships with other brands.