Organisers of annual German trade exhibition LivingKitchen have revealed more details of next year's event, which is now fully booked.
Held on January 16-22 in conjunction with international interiors show imm Cologne, Living Kitchen will feature 200 international exhibitors across 270,000sq m of exhibition space.
More than 40 brand new exhibitors from 10 countries are expected along with 150,000 visitors from more than 130 countries.
LivingKitchen covers three halls and features the majority of Germany's market-leading brands, including Blanco, BSH, Häcker, Lechner, Leicht Liebherr, Miele, Nobilia, Schüller and Zeyko.
Other first-time visitors include AEG, Alno and Hansgrohe.
There will also be a greater Italian influence at the 2017 event with 30 brands said to have booked including Valcucine, Elica, Ernestomeda, Florim Ceramiche, Aran Cucine and Scavolini.
Highlights of the show will include a new Smart Home hall, a joint project with retail giant Ikea.
Speaking at an international press conference in Salzburg, Austria, Gerald Böse, president and chief executive of Koelnmesse said: "Next year, with imm Cologne and LivingKitchen, we will once again experience the biggest and most holistic furnishing store in the world. The success of the event primarily lies in the concept, which is aligned to suit both business and the public. LivingKitchen is not just a pure product show, it also relies on its experiential character with informative events, cooking events and big cooking shows. It thus attracts a very heterogeneous, enjoyment-oriented audience."
Böse also stressed the importance to LivingKitchen of its satellite event AMK in China. This event will be held on October 21-23 and "actively increases the number of visitors from Asia to Cologne".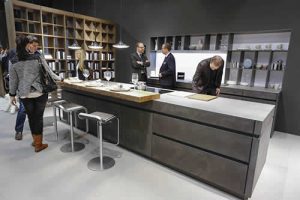 Kirk Mangels, executive director of the Modern Kitchen Working Group (AMK), added that the kitchen is replacing the car as the modern status symbol.
"In the year 2016, and without doubt also at LivingKitchen 2017, the kitchen is no longer just white," he said. "The new cosiness is also being reflected by darker colours and in darker wood shades. The combination of various colour schemes and materials is popular for kitchen fronts in general. The combination of matt plain varnished fronts and a real-wood veneer, or visually similar adhesive overlays in plain matt and a wood imitation, are becoming popular. Glass is being used more and more, as a substitute for mirror tiles or as a high-gloss front. The combination of matt varnish and glass always makes an elegant and subtly exclusive impression. There is also a high demand and great enthusiasm for the ever-increasing offer of networked built-in appliances.
"There will be offers under the name 'Smart Home' that ultimately contribute towards the 'smart being' and bring their users real benefits. It won't take long, if desired, before the fridge orders a new carton of milk independently. An app will be able to recognise when we return home and immediately start the coffee machine. Beyond this, however, safety, energy saving and making our lives easier should come first.
"You will be able to see this and much more in January 2017 at Living Kitchen. From our point of view, LivingKitchen is a must-attend event for everyone interested in kitchens, whether they are industry or trade partners or end customers."
Title image shows the Blanco stand at the 2015 LivingKitchen show