KBSA consultant Uwe Hanneck has resurrected the KBB National Training Group with a new pledge to improve industry standards.
The NTG, run by chief executive Renée Mascari, was dissolved back in June amid suggestions that the KBSA had chosen to take education and training in a new direction.
However, Hanneck (main pic) said Mascari had now agreed to work on a part-time consultancy basis with the KBSA to continue the work of the NTG.
"The KBSA has begun liaising with key partners in the industry and educational institutions to create and secure the best possible future educational environment," he revealed.
"During the course of this year, the NTG and Renée Mascari (pictured) will 'come home'. The KBSA wants to ensure that the NTG continues to be active in addressing not only the problem of the apparent skills gap that has such a negative effect on our industry, but also that we, in conjunction with all other interested parties, and specifically with Bucks New University, create a reference point for a National Centre of Excellence for the kitchen industry."
Hanneck went on to question whether enough was being done by retailers to protect the future of the industry.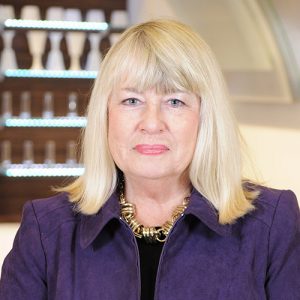 "Are we, the retail members of the KBSA, doing everything to ensure that not only is our business fit for the coming years, but more importantly that we can provide future generations – with all the training and education that is needed to give them the best qualification in order for them to work in our industry and to continue our excellent work?" he asked.
"Be it business and management, design or marketing and selling, fitting and installation, we need to ensure that we 'avoid the gap' and that our enthusiasm and success can and will be passed on to our employees and successors. We want them to be proud of working in our industry. We want them to succeed in our business."
The NTG, along with other interested parties, has been pivotal in the launch of the kitchen degree course, which next year will have its first graduate.
Hanneck said the KBSA remained convinced that, in partnership with Bucks New University, The Kitchen Education Trust, the CITB and organisations like the Worshipful Company of Furniture Makers, SBID and other educational institutions and organisations, as well as the Industry Training Debate Forum, it will be possible to "create a platform that in future will generate a multitude of choices for a career path all the way from apprenticeships to degree courses to serve and strengthen our industry".
"We strongly believe, that with the long history of furniture design in the UK in mind, we – the best in class kitchen retailers and kitchen furniture manufactures – can indeed be instrumental in providing a best-in-class educational pathway for generations to come," he concluded.
Commenting on the news, Mascari said: "Uwe just really wants to support our education programme, which is great for me! I needed someone of substance to drive it forward and I am sure he is the man for the job!"