Going it alone

Disillusioned with the 'production line' mentality of the top Wigmore Street stores, kitchen designer Nicholas McColgan (pictured) has set up his own showroom in Newbury, Berkshire, offering clients a more personalised experience. Tim Wallace went to meet him 
Landing a job on Wigmore Street would probably make most kitchen designers feel pretty pleased with themselves, but not Nicholas McColgan. The former cabinetmaker has worked for a string of top brands in his 20-year career including Bulthaup, Poggenpohl and Teddy Edwards, but his ultimate goal was to set up his own showroom to design and sell kitchens his way, rather than someone else's.   
He finally realised his dream in May last year, launching Snug Kitchens on a busy high street in Newbury, Berkshire. The business supplies contemporary furniture from German brand Pronorm, teamed with a handmade option from Wiltshire-based specialist Fordbrook. Appliances are from Gaggenau and Siemens.
"I always thought a Wigmore Street showroom was the Holy Grail of the kitchen industry, but I now realise that any dreams of opening a studio in Mayfair are driven by pure vanity rather than good business sense," McColgan tells me. "You pay a fortune for the position, so you need to keep those sales going. It's the only way to afford to keep the shop open. I suspect other companies in Wigmore Street work on the same basis."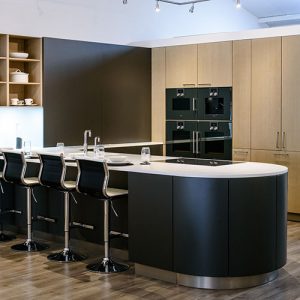 McColgan fitted kitchens for Bulthaup before moving to Poggenpohl in 1997. But he gradually became disillusioned with the company's approach and went off sailing, before briefly returning to the Guildford showroom. He then took on the MD role at Teddy Edwards, before finally finding the location he'd been looking for and launching Snug Kitchens. 
"Working for Poggenpohl was like being on a production line," he continues. "Wigmore Street has a very high footfall and it was a case of someone walks through the door, you do a design, you close the sale, you take the deposit, you pass it to a project manager and you move on. I got bored. I wanted more stimulation. I wanted pride in what I was doing. I needed to be able to see the end product and be involved in creating it."
From a cold start, Snug took orders of £700,000 in its first 12 months and another store is already planned, although not for at least another year. "The response has been off the scale," he says. "We've had a lot more business than we thought we would, and much quicker. We thought there'd be a gradual, organic growth, but we've slotted into a niche in the market that had a high demand and very little supply."
Like other dealers we've spoken to, McColgan is not overly worried about the Brexit vote either, claiming that although various suppliers have put their prices up, Snug will still make its margins. What interests him more, he says, is seeing who'll play fair when the pound strengthens… but he's probably not holding his breath on that one.
For the moment, he's running the operation on his own, but his passion shines through as he takes me on a tour of the showroom. His installation background has also helped – by fitting everything himself, he's saved £30,000 on the £100,000 it apparently cost to get the business off the ground.
"I've been selling modern German kitchens for a long time with Poggenpohl and felt very comfortable with that," he explains. "And because I'm a cabinetmaker, I love building fine furniture and bespoke pieces. Working with Teddy Edwards gave me a chance to work with a very high-end traditional brand and to flex those muscles."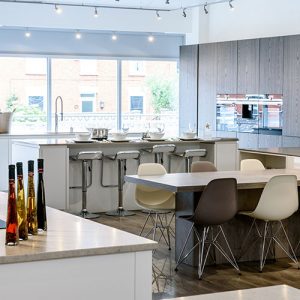 McColgan takes me over to a Fordbrook display, opening and closing door fronts with infectious enthusiasm. "Hear that?" he asks. "The air displacement is acting as a soft close because it shuts so tight. It's all solid wood. We have solid centre panels, which nobody does. With a normal veneered panel, you'll get a colour change as it oxidises, whereas we cut the frame from the same tree and everything ages at the same level. It's beautiful stuff."
But when I ask him who else on the handmade side he rates, McColgan is less complimentary. "Some of the small workshops are producing beautiful work, but some of the larger names are producing beautiful marketing, not necessarily good work," he confides. "There are people out there trading off names, not quality. Nowadays, the consumer is more sophisticated and can understand the quality once they've been educated.
"I would argue what we have here is better than anything else in the country. Once a company gets to a certain size, the orders can no longer be fulfilled by a group of craftsmen working in a small workshop. So it can never be truly handmade. Once it turns into a production line, the quality will suffer. "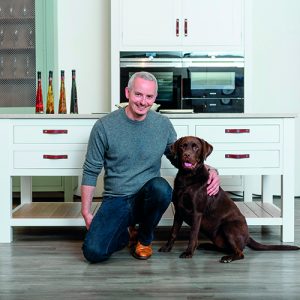 On the contemporary side, McColgan considered various German brands, but ultimately decided Pronorm was the best option: "I spoke to Eggersman, Rational, Warendorf, Schüller and a couple others," he says. "But when I was at Poggenpohl, we always used Pronorm as a mid-range product. Since they broke from Poggenpohl, they've grown massively. I wanted high quality without a premium for the badge, and Pronorm gave me that. This is better than Bulthaup, Poggenpohl or Siematic.
"My second showroom will probably be solus Pronorm. It'll be much easier to have staff working with a regimented German product. It's easier to design and specify, and you're much less likely to make mistakes and get margin creep. With a handmade product, every detail is bespoke. The amount of work that goes into it is massive.
"Snug Two will probably be quite close to the first," he concludes. "We can find plenty of business in quite a small area."