'We are a brand that takes risks'

Scavolini-owned Ernestomeda is taking its sleek, minimalist kitchens to a hungry Canadian market. Diane Chan talks to managing director Agostino Piccin about why it opened a new showroom on Toronto's prestigious Designers Walk
In true Milanese style, Ernestomeda has a bold espresso waiting for you.
In June, the Italian kitchen manufacturer – known for state-of-the-art, minimalist and sustainable, LEED-compliant [Leadership in Energy and Environmental Design] cabinetry and worktops – began serving customers directly in Toronto, the place of Ernestomeda's first Canadian outlet.
It is located in building Number One on Designers Walk – the prestigious destination for the city's interior design crowd, nestled between the affluent neighbourhoods of Yorkville and Annex. The showroom is elegant, yet industrial, with a rich mix of earthy and hi-tech materials. Exposed concrete walls, polished cement floors and black-painted ceilings provide a neutral backdrop for its current collection of a dozen or so modular kitchen systems from such 'starchitects' as Zaha Hadid, Marc Sadler and Jean Nouvel, plus the plush yet clean-lined furnishings to match.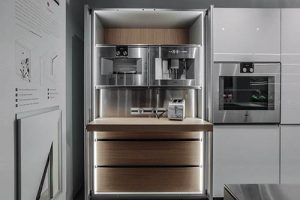 The stunning 2,000sq ft space, designed by Ernestomeda's in-house team, is said to blur the line between cooking and living – a trend that has become increasingly mainstream in recent years. Ernestomeda's owner and managing director Agostino Piccin says: "Showrooms are the largest capital investment in our business. They must represent substantial proof of our professionalism and how we position the firm apart from the competition. In addition, they must be functional and display the gamut of what we have to offer. We fully utilised the space we had available on Designers Walk."
In regards to North America, he says "the market is alive and well, particularly in the large metropolitan areas where construction is up", making Toronto an ideal home for the new showroom, which caters to both retail and commercial clientele – with a caveat.
"The temptation of working more closely with the construction industry is always there due to the volume they can provide. There is still scope for good design on the contract side, however there is no substitute for good design in general," claims Piccin. "Smaller dealers can also compete, if they have a solid manufacturer behind them to help them secure this business."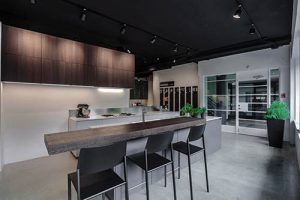 A member of the Scavolini Group since 1996, Ernestomeda is customer-centric, designing its showrooms from the consumer's point of view. "A key driver for success and a strategic differentiation can be gained by focusing on the single most important element of success – the customer. Our business can ensure success by managing this relationship and providing world-class attention and field support. Customer service is our first priority," insists Piccin.
"When we design a kitchen, we also consider the context where it will be installed and the tiniest detail to ensure it fits perfectly into their world. This is essential to creating a unique kitchen, in harmony with space and time. We offer a complete solution for the customer, including appliances and furniture – regardless of the margin – beginning with design, through to installation and follow-up. We set up the whole kitchen, on time and in full. We pride ourselves on delivering what we say we will."
Collaboration is also essential. Designers and architects are encouraged to work in conjunction with showroom staff – even to do the renderings – so that desired results are obtained. These don't leave the shop until a client commits, to avoid touting them elsewhere. "Solid design is always a product of close collaboration between the various parties involved in any project. Good designers and manufacturers strive to work together to create cohesive synergies between them," Piccin says.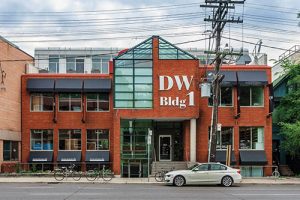 Ernestomeda's resident installer – a highly trained and qualified specialist in luxury kitchens – is then sent in to ensure a smooth execution from start to finish. Customers pay one price for the entire package. "Designing a kitchen is very time-consuming and requires a unique set of skills, which can include not only design, but also architectural elements. We do not believe in an hourly rate for these services, because it is part of the total project that is being provided by the dealer and we are here to help the designer or architect and ultimately, the end user," insists Piccin (pictured below).
"We want to realise their vision of a luxury kitchen that doesn't cut corners. Product construction is critical: a kitchen made today must last for many years to come."
Behind the cleverly engineered, handleless gloss lacquered (or brushed steel) facades, Ernestomeda has a roster of highly capable staff of designers and architects who can accommodate customer queries from anywhere they originate. "Staff retention has to do with many aspects of the jobs, such as employee compensation, communication, employee recognition and rewards systems, training and development – a creative work environment and work-life balance," says Piccin.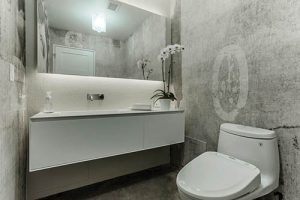 "Since employees are all different, each of the listed aspects of the job varies in importance to each individual, so managers need to regularly sit down with their staff to see what they personally need to make their jobs and their lives more fulfilling."
Lastly, clients have become more tech-savvy, so the World Wide Web, particularly social media, comes into play. "We embrace this as it provides an opportunity to engage with and educate admirers and potential customers. Consumers are much more involved in the buying process, as that information is readily available through websites such as Instagram, Pinterest and Houzz. So, teaching the consumer about the differences between the variety of offerings that are available on the market is crucial to our success. We view ourselves not only as designers, but consultants, so that the customer can make a well-informed decision."
The internet also offers the opportunity for price comparison. "So it is imperative that customers understand what they are buying, what is included and what is not. It is our job to educate the customer as to what they are really getting," says Piccin. "Because we cater to the high-end market, tactics such as 'Every Day Low Pricing' do not apply; the mid-market is also being squeezed due to the fact that it has become increasingly difficult to differentiate between those products and budget products. Fortunately, Ernestomeda doesn't compete on price." Its associations with prestigious architects and designers, and partnerships with such brands as DuPont and Disney, confirm this.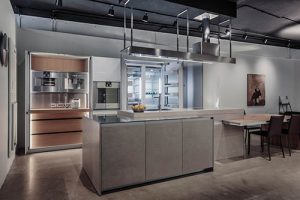 Technology has also paved the way for connected households. "The smart home is here to stay and will only gain momentum in years to come. Technology is constantly improving, so we must accept this and welcome the opportunity with open arms. We need to see where we can work our designs in with the advances in smart-home technology."
Ernestomeda may appear to be just another sexy, European company slithering into the North American market, but Piccin insists his brand is distinct. "You will always have manufacturers that will take the safe path and not push themselves or take risks. Thankfully, we are not one of these companies," he says. "Our mission is to observe, experiment and achieve something different, something special. This is achieved through leading-edge technology, a passion for quality, and constant research and development, so that we can regularly improve and reach new heights of innovation and design."
He adds: "Innovation has played a key role, together with a vocation for 'tailor-made' products reflected in attention to detail and solutions, allowing a high degree of personalisation, all supported by the financial soundness, excellent business reputation and know-how of the Scavolini Group. We are not a company that copies others. We are a brand that takes risks."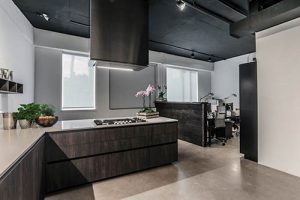 Ernestomeda's foray into Toronto – much like the careful alteration of solid blocks and open units that make up its new K-Lab system by Giuseppe Bavuso – appears to be a calculated, yet thoughtful move.
It has an aspiration "to stand out on the international scene by promoting the values of Italian-made excellence and furnishing kitchens with exclusive, innovative, quality products".