Oliver Wicksteed, a partner at Cameo Kitchens in Nazeing, Essex, gives us his take on the challenges retailers and the industry will face as the UK gets ready to plan its exit from the EU
Brexit is a voyage into uncharted waters and we will have to deal with the consequences as they arise. We have already seen the imposition of significant price increases, which have been swift and painful.
Price increases inevitably have an impact, as products become less affordable. We are facing increases of between 8% and 15% post-referendum.
In order to preserve margins, the increases will inevitably be passed on to the customer. In the first instance, when it comes to kitchen furniture and current quotations, we will be absorbing some of the increased cost, while rolling out higher costs to new customers.
Experience tells us that the market acclimatises to small price increases quite quickly. However, experience also tells us what happens when these are associated with an economic downturn. Price increases, of course, will not bring about a major downturn in business alone, but combined with external influences and uncertainty? In the short term, we must watch the market carefully.
What we are facing are not small price increases in this instance. As we buy furniture from one key supplier, Rotpunkt, in euros, it is for us to manage the downturn in exchange rates. We have enjoyed beneficial exchange rates for some time, but unfortunately this position has quickly been turned on its head.
Appliances are bought from the manufacturers' UK subsidiaries in sterling and so "the price is the price". Increases are passed on swiftly, but during 40 years in the kitchen business, I have never known manufacturers to reduce prices when the exchange rate significantly improves.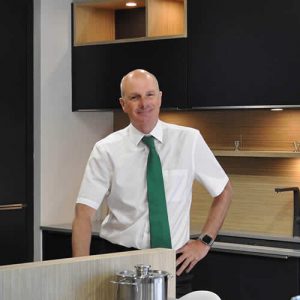 Suppliers, such as Electrolux and Smeg, have raised prices by what seems to be the average of around 10%. BSH initially passed on a 4% increase and, for a while, we thought that was that. Unfortunately, it was not to last and, as I write this, a further increase is on the way, bringing the overall increase up to the average. Inevitable, I suppose.
Passing on increased prices to preserve margin is far harder with appliances. What we have seen over the past few weeks is complete chaos, with many online retailers with large amounts of stock not passing on price increases and others following suit in order to compete. This seems to have driven a downward trend in price and therefore margin, as the big players compete for business.
We actively encourage potential customers to compare appliance prices and even provide iPads in our showroom to help. We know they will do this as soon as they leave anyway, so we face the reality and match prices whenever we can, while they are still in the showroom. We have more than 80 built-in appliances, most fitted and working in our showroom and provide a wealth of further information on kitchens and appliances on our websites.
Any increase in price will make premium brands more of a stretch financially for some customers. As a result, they may end up looking at cheaper brands or reduce their spend on kitchen furniture.
Recovery
In recent years, we've enjoyed record turnover and record profits after recovering from the financial crisis and have invested heavily in the business, thus driving the company forward. At a time when kitchen specialists are under pressure on a number of fronts, though, it is unfortunate to have to deal with big price increases and blips like the one the referendum has created.
Having said that, as a kitchen specialist, we remain very optimistic and believe the sector is stronger than ever. After years of slow recovery, 2015 saw record kitchen sales for us. Small, high-spec contract projects have also made a significant recovery after many developers retreated to sheds and merchants during and after the recession. Customer confidence has been stronger than at any time since 2008.
Our customers want quality service and a team with total customer focus and bags of experience. They will still pay for that quality and service.
Obviously, if as a customer you have a £15,000 budget and the price of what you want has just gone up to £15,500, you may decide to look for cheaper alternatives. While an experienced kitchen specialist should be able to manage this increase, inevitably some consumers will not be willing to pay more. We also rely on our compelling proposition as a specialist delivering exemplary service.
We supply contract customers building up to 25 units and have not seen any impact post-referendum as yet.
Current contract customers are already committed to developments and completing building work, so the long-term impact has yet to be seen. Given the shortage of housing in this country, and the apparent determination of government on all sides, and the Bank of England, I do not believe the contract market will take a major hit. Nor should the retail sector, providing we are supported by our suppliers and the Brexiteers agree a sensible deal with the EU and beyond.
Unfortunately, in the eyes of many customers there are few compelling British appliance brands beyond Rangemaster and Stoves. No matter what we display, the same brands have the strongest appeal, and they are primarily German.
Recent innovation from BSH, and with similar to come from others launching new ranges in the coming months, means British brands are constantly playing catch-up and people still want the best – and these brands drive customers to our showroom. I've been dealing with AEG and Neff, for example, since 1975 and such brands have always had their noses in front.
There could possibly be opportunities for other foreign appliance manufacturers trying to break into the market, but they lag behind in the eyes of the consumer in terms of quality and desirability.
We also supply a British brand of furniture, Mackintosh – chosen because it offers great after-sales support and a first-class brochure, but mainly because it offers a terrific range of painted kitchens that are finished in its own factory. Of course, the cost of this brand may well increase too, as the cost of imported raw materials and components goes up.
I believe we are yet to feel the full impact of the Brexit decision. No matter what happens in the future, however, we will continue to invest in our showrooms, marketing, technology and customer service and hope to enjoy mutually beneficial partnerships with our suppliers.