'Our kitchen business has stagnated, we need it back'

With new product launches being well received, and its sales force doubled, Cannock-based KBB distributor PJH is resolving its problems. Chief executive Richard George tells Tim Wallace the full story
We last visited PJH back in May 2012 when the 'big news' was the return of its Ram Kitchens brand, plugging a gap at the bottom end of its portfolio.
But four years later, as I return for an update, much has changed. For one thing, chief executive Andrew Yates has recently moved on, accepting a similar role with parent company Globe Union. Ram, meanwhile, has been ditched and the big news now is Virtu – a rigid, premium collection, but with an 'achievable' price tag.
Yates's replacement is former PJH chief operating officer Richard George (pictured) who's been in the job since May. Taking a tour of the company's much-expanded showroom, I'm expecting him to trot out the usual on-message assurances about the healthy state of the business. But instead, he's honest enough to admit that he's had to renew confidence in his retail customers, and win back some trust.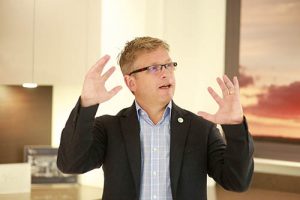 "Our kitchen business has declined and we want to bring that back," he tells me. "It was stagnating with our K and Ram brands, so we've taken Ram away and separated K and Virtu – which we launched in February – to offer two different ranges. There's a place in the market for another premium kitchen distributor."
George also admits PJH had "gone a bit quiet" and puts the decline down to problems with the company's customer service. However, he insists things are now back on track. "Our service hadn't been great," he explains. "We had some dips a couple of years ago, which didn't help us. If you're not delivering complete kitchens, you begin to lose trust and I think we just eroded some of that."
So what was going wrong?
"Originally, we had a number of regional depots. Two years ago, we started a restructure to have one stocking place, so we could manage that service better. We were finding the stock wasn't always in the right place. The customer is key. They want it when they ask for it. Over the past few years, that reliability is sometimes more important than the product. Our stock ordering is good, but getting it there on time is fundamental."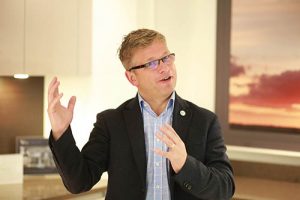 Turnover and profits are also down. Back in 2008, PJH did a healthy £155 million, but by 2011 this figure had dropped to £140m and this year will be around £115m.
"But you're not always comparing like with like," George counters. "It reflects how we've structured our deal with B&Q. There's no doubt we're not as big as we were in terms of turnover numbers. But our sales and profits will grow from last year and that's what it's all about. It's about sustainable growth, I don't just want sales."
Vitality
There's been no "seismic change" since Yates's departure, he says, but he's injected some new vitality. "Andrew has been with PJH for 20-plus years. We know how each other operates, but we're different," he explains. "I wouldn't say it's a fresh strategy though. We were on the cusp of where we were going. We were launching Virtu, shower enclosures, we were rebranding, we'd changed the logistical and warehouse stuff. Now it's about turning the heat up on that and driving it out to the customers. We've doubled our retail sales team and we've got a new head of sales – Rick Adams from Merlyn. Let's reap the rewards and move forward. My message to our customers is to come and see the showroom and the warehouse. We've got 10,500 pallet spaces and £8.5m of stock. Get some confidence. Meet the people you're going to be dealing with."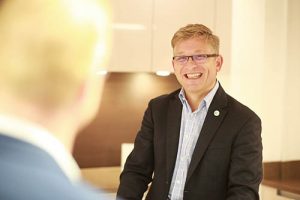 Inevitably, Brexit is also a topic of conversation, but like many people we've talked to lately, George plays down its impact. "Customers haven't given us any negative feedback," he says. "They know it's there, but the world hasn't changed overnight."
But he does admit that it's affected prices acrossall categories. "We'll take a judgement on when we push that back into the market," he says. "We can't absorb it all for the benefit of our customers, forever, but I don't think our prices will be affected as much as some other people. We're all consumers in the end. Prices change. Brexit is just another element that will fluctuate some of those prices."
Follower
He's also happy to accept that PJH is not so much a leader as a follower. "A lot of the time, following is the right thing for us," he says, "but it's how quick you follow in terms of trends. You can be a trendsetter or a fast follower. There's a place for both depending on the category. We have our own brand appliances in Prima and Teka, but we also have Samsung, so it's a whole mix to give the customers the right offer."
The launch of Prima and Teka is described as "one of the big pluses" for PJH in an age where making money on branded appliances can be difficult. They're protected from the online threat, so the customer can't check them against the prices against Curry's or AO.com.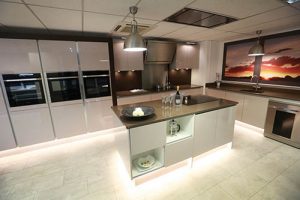 So speaking of online, how would George set up a KBB showroom if he had to open one tomorrow? Would it be multichannel or would he stick to offering great customer service in-store?
"It's an interesting question," he says. "You need a web presence, even if it's not transacting and it's just a marketing tool. But nowadays anybody who even sees a shop will Google it and its products, certainly on appliances. It's about having that presence. You've got to have multichannel, and over time more and more retailers will need to transact in a multichannel way as well. Some are embracing it. Some love our portal, for example. Eight per cent of our retail sales are through our online portal. It's fantastic, but we have a proportion who will never do that."
So would he say too many retailers are set in their ways? "Yes, but that's the nature of customers," he says. "You still get cash customers! Some will never go online. Some like to fax, some use the phone. Ultimately, they'll have to go online – the whole world's gone that way. But people have been saying that for a few years and it hasn't come yet."
With the role of the sector continuing to evolve, what does George think retailers are looking for from a distribution partner? What's the priority?
"Reliability," he says. "They want one of those and they want it tomorrow, looking pristine. Price is important, but reliability is fundamental.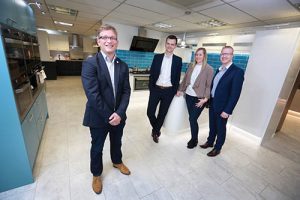 "Reliability is also what we're looking for from them. But we also want more partnership customers. You need your bread-and-butter transactional customers, but you also really want those showrooms – ones where there's some investment from the retailer to offer something fantastic to the consumer."
George accepts that the distribution sector is evolving, but says getting it right comes down to one thing. "To be a successful distributor, you've got to give customers more compelling reasons to buy from you. The literature, the service, the products… make it easy, so that there's no blowback when they sell it on to the consumer. Is distribution changing? It's just that standards are improving. But you have to work harder to keep those customers."