Metallic looks are going to be "the next big thing" in kitchen doors, a leading kitchen designer has predicted.
Neil Lerner, managing director of Neil Lerner Kitchen Design in Finchley Road, has revealed his forecasts for the top kitchen trends in 2017.
He claimed that titanium, bronze (pictured top) and gold finishes on kitchen doors will be a big trend next year as they "add a dash of glamour to the kitchen and reflect the growing trend for natural-based materials".
Black volcanic stone veneer doors are also in demand, according to Lerner, as they coordinate well with all of the white and grey hues.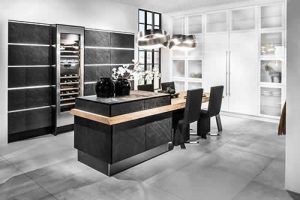 "This is an excellent contrast colour offering a genuine stone veneer for an original and totally unique kitchen finish," he said.
He added that the 'safe' whites and greys will still be a popular choice, as they blend well with a variety of finishes, but claimed that blue is already "coming through strongly in 2017".
"Blue is a very warm, rich colour that makes a bold fashion statement, while also being very calming and reassuring," he explained.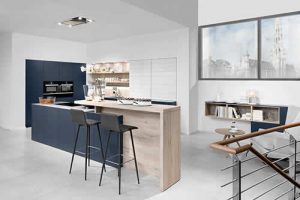 For worktops and splashbacks, neolith porcelain with marble effect graining is gaining ground.
"Again, this is a great way to inject a dash of texture and pattern into the minimalist décor of the kitchen area. Neolith is a very durable, hi-tech ultra-compact worktop material that offers the ultimate combination of functionality and beauty for contemporary kitchen designs," he concluded.