'The target is £10m within five years…'

Luxury KBB retailer House of Harrogate has partnered with bifolding doors giant EBFD to launch Express in the Home, the company behind The Home Space – a gigantic new showroom in Leeds displaying kitchens and living room furniture in three full-sized houses. Tim Wallace speaks to Express in the Home managing director Mark Edwards (pictured)
We've featured a lot of showrooms in kbbreview over the years, but none of them have been quite like The Home Space.
For one thing, it's huge – a whopping 27,000sq ft, which makes it undoubtedly the biggest store we've ever visited. It's so big, in fact, that you could fit three full-sized detached houses inside. Which is exactly what the people behind the project – Leeds-based Express Bi-Folding Doors (EBFD) – have decided to do. And when you've got a £2 million budget to play with, why not?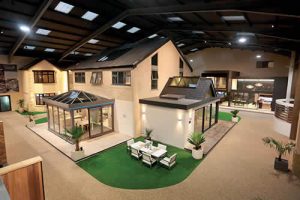 I'm greeted at the launch event by Mark Edwards, managing director of KBB retailer House of Harrogate, who's gone into partnership with EBFD director Steve Bromberg to oversee the kitchen side of the business. This will include bespoke handmade designs from Inspired Furniture in Northern Ireland, as well as top-end Schüller brand Next 125 and a more affordable option from Nobilia. Appliance partners, meanwhile, are Sub-Zero and Wolf, AEG, Liebherr, Miele and Caple, while Blanco is the main sink and tap supplier.
From the moment I walk in, I can tell this isn't your typical store opening. The whole place is buzzing with activity. TV presenter Phil Spencer is busy doing a piece to camera and Dominic Littlewood – from BBC series Don't Get Done Get Dom – is chatting with a growing clan of admirers. I'm not exactly sure why he's here, but it all adds to the sense of occasion. Meanwhile, in the kitchen areas, professional chefs are offering freshly-cooked food to salivating queues of architects, designers, suppliers and estate agents.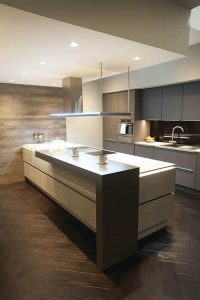 Edwards quickly sticks a large glass of Chardonnay in my hand, keen to extend a warm welcome to what he hopes will be a lucrative sideline to his existing business. The "destination" store – in Millshaw Park, Leeds – is well signposted and close to major motorways, which it's hoped will lure customers from further afield. There's plenty of money in Leeds, Edwards assures me, but when you throw the affluent areas of Cheshire into the mix, you've got yourself a potential goldmine. Particularly when EBFD's advertising reach is aided by an annual budget of £1.5m.
Despite the massive scale of the new venture, the idea is relatively simple – to create three homes within an aircraft hangar-sized showroom and spec them out with luxury furniture and fittings. A veteran of the kitchen sector, Edwards has done business with EBFD for years and understandably jumped at the chance to be involved.
His existing showroom already offers Inspired Furniture and Next 125, so it's an easy crossover, potentially driving a lot more business into his other showroom. But he's less keen on supplying bathrooms to the venture, describing them as "too much aggro for little reward", and these rooms remain empty. You suspect it won't be long before EBFD finds a supplier or two, though.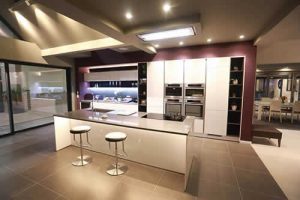 "I don't know anyone else doing this," Edwards enthuses. "It's a one-stop-shop. We've got all our partners in here. You can see the windows, the doors, the coving, the detail, everyone's put something in – the tiles on the floor, the fake grass, the rendering on the walls, it's all been done by different companies. It's like a cooperative, that's what we're trying to do. But the biggest part of it is the windows, the doors and the kitchens."
Edwards is confident that EBFD will pull in plenty of clients and that many of them will also be interested in a new kitchen. "The idea is to get the leads from the bespoke kitchens and take them on at House of Harrogate," he says. "Then the Nobilia side will be Express in the Home. I haven't got any branding in here. I'll be gently nudging that in."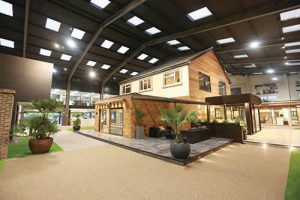 He's also aiming to increase margins once the business is fully established. "We aimed for 20 to 35% margin as the business was," he confides. "I would hope it would be 40%-plus with the Nobilia stuff and the amount of leads we generate through this whole concept will enable us to put the margins up."
For the moment, Edwards is spending three days in Harrogate and three in Leeds, training staff and working out the logistics as he goes. What's nice, he says, is that he now has the "fire power" of EBFD to support the whole thing.
"I've got two designers here and two at Harrogate," he says. "I do the initial visit, get an idea, put it on paper and then one of the designers puts the pricing together. I do the presentation, then he does the changes. That keeps my time down to a minimum. We have lead-takers. They walk customers round and then, if they're interested, they come to my office. We'll pay staff a good basic and then commission based on sales. We also have a bonus structure if you get over certain targets."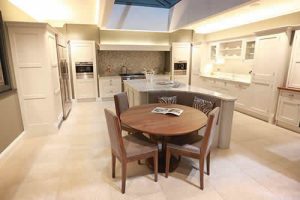 Touring the store, I get a feel for the one-stop-shop strategy. In particular, Edwards points out a company doing "augmentory" extensions. The idea is to build a client a bespoke extension within days and simply crane it into their property. "They put a base in and then literally bolt it to the side of your house," he says. "It takes the hassle out of it. And if you want a kitchen in there, they can fit that for you, too.
"Conservatories are dead," he insists. "They're too cold in the winter and too hot in the summer. An orangery or augmentory is the way forward. It feels like you're in part of the house. Most people are extending the back of the house these days."
Edwards quickly laughs off any suggestion that concerns over Brexit might damage consumer confidence and slow down orders. "It hasn't affected us, and the guys at Bi-Folding Doors obviously aren't worried either!" he counters. "They're expecting to do a million pounds over the next two days. They've got a 5% off deal if you buy this weekend. They did a soft launch a couple of weeks ago and did £460,000 in two days."