Ceramic and glass tile manufacturer British Ceramic Tile has introduced a series of initiatives that offer development opportunities for its workforce.
It has joined forces with Lean Education and Development Limited (LEAD) to initiate a new scheme that sees employees undertake live projects in return for accreditation.
Colleagues have been working to drive down waste and improve efficiencies.
Over a six-month period, teams of employees have been carrying out four live projects, which evaluated the current performance of the glaze line and sit kiln. Recommendations made by the teams in the first two projects have made financial savings of over £250,000 a year, while colleagues received top marks with a level 2 apprenticeship.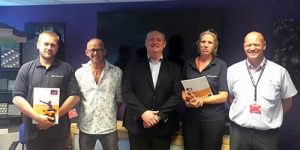 Dave Banton, manufacturing director at BCT, said: "Working with LEAD has been a fantastic initiative for the business and has been an incredibly rewarding experience for all involved. There is always an area of a company that can be improved, but often time and resources stand in the way. With our LEAD project, colleagues from across our manufacturing division have been able to take a step back and look at new ideas that deliver real outcomes and cost savings, while growing their own skill set."
Trevor Chilton, lean coach for LEAD, added: "Our aim is to upskill the UK's workforce and by working with companies like British Ceramic Tile we can spread the word on lean principles. It was brilliant to work with a great team of people who were totally focused and passionate about what they did."