Quartz surfaces manufacturer Caesarstone has launched a direct distribution model in the UK.
The decision comes after the "significant success" of its direct distribution in other regions, which include the US and Australia. Caesarstone also said it highlights the importance the brand places on the UK as one of its key markets.
"We are up and running and open for business," said Caesarstone UK's managing director Amir Reske."With our well stocked, 42,000sq ft warehouse at our HQ in Enfield, North London, complemented by our own delivery fleet, we are in a strong position to ensure our customers enjoy a quick and efficient turnaround from order to delivery. Together with our team of dedicated sales and support people we aim to offer the exceptional service that you would expect of a premium brand – a service that is in line with our global service standards."
The company also explained that it sees huge potential in the UK quartz market.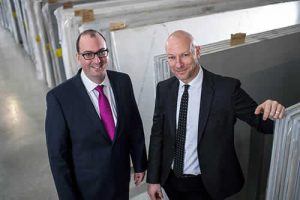 "Quartz continues to grow in prominence within the UK surfaces market, driven by growth in new builds, commercial projects and consumer confidence in domestic renovations and their desire for high quality materials," added Reske. "With this in mind we see great opportunities for the brand in the UK. We want to take our products and services to a new level, while ensuring that our customers are at the heart of everything we do. We will do this by enhancing our product offering – we already offer 40 desirable colours and designs and we will be launching more ground breaking products later this year – and by building stronger ties with key partners via new loyalty programmes and unsurpassed service."
As part of its relaunch, Caesarstone is offering a 25-year warranty on all domestic products sold from January 2017 onwards.
It has also invested further in its facilities, with new offices and warehousing at its North London HQ, and a new showroom within the same space, which will be unveiled in the coming months.
"We want our facilities to become a resource for fabricators, designers and architects in its own right – and our product design and innovations an inspiration to them," concluded Reske. "We now have everything in place to maximize the potential for Caesarstone in what will be a major market for the company."