'We're the Legoland for kitchens…'

Mixing showroom retail with e-commerce has proved a winning formula for self-styled entrepreneur Steve Tyler of 3d Kitchens. Tim Wallace met him at the launch of his new flagship store in Halesowen
I first met Steve Tyler a few years ago, discussing the kitchen market with a group of other dealers. Not one to mince his words, Tyler came across as something of an industry maverick, accusing his peers of blindly resisting the potential of the internet and claiming they wouldn't be around much longer if they didn't change their ways.
Whether that's turned out to be true, I'm not sure, but it seems Tyler himself has enjoyed plenty of success since we last spoke.
I find him greeting people enthusiastically at the launch of his impressive new showroom in Halesowen, south of Birmingham, the shiny new worktops heaving with big trays of freshly-prepared sandwiches for the sizeable guest list. He's recently switched from more modest premises on the other side of the roundabout and is clearly delighted with the way the move has gone. In fact, he's even invited the local Tory MP to cut the ribbon on the 7,000sq ft ground floor.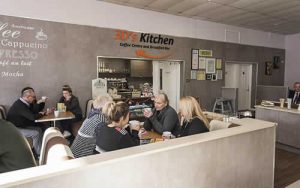 But this is only phase one, he insists. A merchant counter is also planned, and bedrooms and bathrooms will soon follow. He'll then think about opening new stores, perhaps going down the franchise route as he builds the brand.
The plot measures more than 20,000sq ft over four floors and includes an adjoining factory producing 3d-branded furniture. The showroom has now been open for a few months and footfall, Tyler says, has already gone up tenfold. Turnover is around £3 million and the target is £10m in the next three years. Average order value is around £10,000.
But the wider plan, Tyler says, is to get enough cash together to fund projects he's put on hold. Believe it or not, these include the reinvention of the household plug and the chessboard. At first, I think he's joking, but I soon realise this is no ordinary kitchen retailer.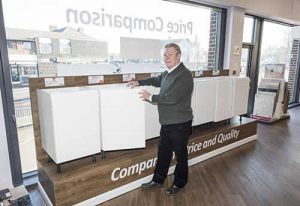 "I won't be around forever. I'm only 59, but I smoke 40 a day," he laughs. "I treat each day as if it could be the last. I like getting things done. I want to be the best kitchen company in the world. People think I'm crazy, but that's the goal."
But while showroom sales are clearly the main focus, and the location of the new store is ideal, Tyler also sees huge potential in the online channel. 3dkitchens.co.uk is the "largest dedicated kitchen website in the UK", he says, offering "the iPad generation" the opportunity to buy full kitchens online. He also has a second website – 3dkitchens.net – with more of a consumer lifestyle feel.
"I'd never built a website before," he admits, "I had to Google it… I got shopping cart software and merged it with Dreamweaver and a few other bits. I've always been entrepreneurial, but a lot of my ideas were so far ahead of the game that I could never get backing."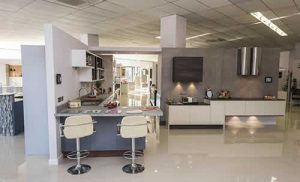 In truth, the jury is still out on whether customers will swing towards buying big-ticket items on the web. Some dealers have already admitted to abandoning the idea. But according to Tyler, one in every 10 kitchens he sells is online, and usually to someone who's never seen it in the flesh. All that's required is a 50% deposit. But he's also created special presentation areas in-store, where designers and customers can work together to produce CAD layouts.
Destination
As well as making its own furniture, the company also supplies Second Nature and 1909 from PWS, Burbidge and Multiwood. Other featured brands include TKC, BA Components, Blum, Kesseböhmer, Sensio, Egger, Karndean, Silestone, Dekton, Neolith and Compac. Appliances are from BSH, Elica, Rangemaster and Franke.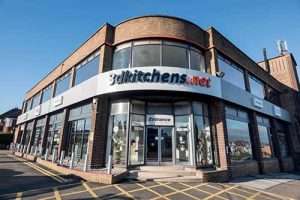 "What differentiates us from the rest is price," says Tyler. "Our brand was born on the internet. This is true e-commerce. We've got 40,000 products on there. But you can't just have a website. You need a good showroom. I wanted it to be a destination venue."
To this end, the new store even has a sizeable cafeteria and has the feel of a place customers can spend plenty of time exploring.
"The reason we built the café is so people can come from London," he explains. "You can't get a showroom like this in London because of the property prices. We've got 18 displays and 60 BSH appliances. Customers can spend an hour in the showroom, have lunch, then drive back. And I guarantee you they'll save at least £6,000 on the price of a kitchen over a London studio. It's attractive and it's a day out. We're the Legoland for kitchens!"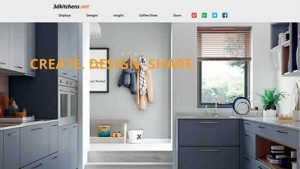 Tyler insists on a "one price policy", whether you're buying online or in the showroom, and never offers a sale. "Whether it's a 30% sale or a 50% sale – it's a lie," he says. "It should be against the law, and I've spoken to my MP about it. I don't know why Trading Standards allows it. They let them get away with it and it should be outlawed. There's no such thing as a sale. I've been in the kitchen industry for 30 years and worked for most companies. They have a sale, but they've never ever sold a kitchen at full price. It's baloney. They double the price and give you 50% off. They're duping the public whereas we have no need for pressure-selling techniques, fictitious sales offers and so-called giveaways."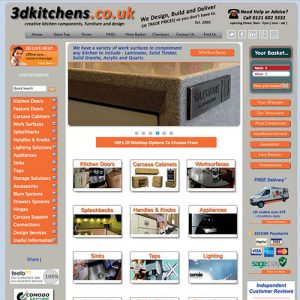 Another bugbear for Tyler is the questionable quality and inflated prices he feels his competitors offer. I ask him about the multiples and he leads me to a window display featuring several white cabinets sourced from competitors such as Howdens, Wren, B&Q, Wickes and Magnet. The customer can then make a quick comparison on price and quality. And as you'd expect, he claims the 3d cabinet is not only the best made, but the cheapest. He's put the same comparison on his website.
"I've done them like-for-like," he says. "Our white cabinet is made in the factory, it's got a 2mm PVC edge and an 18mm solid back, glued and dowelled. We do it in 104 colours. It's a white J handle door. The rest are flat-packs. I've got all the receipts in a folder. I can beat them on price. But never mind the price, I can beat them on quality.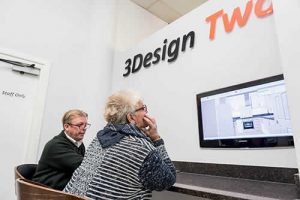 "But it's Howdens I really want to chase," he continues. "It sounds a bit ambitious – they're a billion-pound company. But they've got no competition in the trade market. They only sell to builders."
Ultimately, Tyler returns to his key principles – honesty and transparency: "My job in life is for the general public to get the best product at the best price, so I can sleep at night. It's a struggle, we're not cash-rich by a long shot, every penny we make we reinvest. But the reason we're successful is we don't rip people off. We don't jerk up the price. We've got nothing to hide. That's the difference."