Dream Doors franchising director Bill Owen examines why franchises are sometimes regarded as the poor relation of the industry, despite his average franchisees turning over more than half-a-million pounds a year
Many people in the industry, including Swift Electrical's Malcolm Scott (kbbreview, March), are predicting a strong future for franchising. Despite this, I believe there remains an element of snobbery among many in the kitchen industry towards the concept.
I started my career in the industry in the '70s, as a fitter of Mobalpa kitchens. After starting, growing and selling my own franchise business, I recently returned to kitchens, when I joined kitchen makeover franchise operation Dream Doors in 2015.
In many ways, it could be a completely different industry that I rejoined. Overall, the kitchen sector is buoyant. It is more professional than it has ever been, the quality of kitchens is better and the past decade has seen a noticeable trend to position the kitchen as the centrepiece of the home.
Consumers – perhaps spurred on by a combination of home improvement programmes and foodie shows on TV – are investing in their kitchen like never before. They have better and more choices across the kitchen, and the rise of open-plan living and smart homes means that innovation in the kitchen is at its strongest.
All this should mean that industry optimism continues.
Yet since starting my role at Dream Doors, in which I regularly come across and interact with others in the kitchen industry, I have noticed a slight snobbery when it comes to franchising. There is a tendency to look down their noses, and on some occasions I have felt people believe that we are not part of the kitchen industry at all. Quite why this should be is a mystery.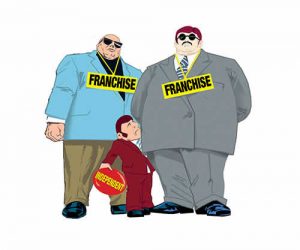 Part of the problem stems from outdated perceptions of the franchising industry. In 2015, franchising delivered £15.2 billion to the UK economy, employing around 640,000 people.
Beyond the traditional franchising opportunities – such as restaurants, catering and home improvement – franchising now touches our lives in many ways, from stage schools and swim schools for our children, to fitness classes and financial services consulting for adults, and much more besides.
Mainstream
So franchising as an industry has matured immeasurably. Potential franchisees were once put off by the prospect of the franchisor making all the money while they did all the work. But as a much more mainstream industry now, it attracts a higher calibre of franchisee, who can earn a substantial living, attracted by the chance to be their own boss, but with the added security of working for an established brand, with a tried and trusted business model.
Our own network of franchisees is a case in point. It is hugely varied in its make-up, with ex-soldiers, an ex-footballer, many white-collar management types and hardly anyone with hands-on experience of kitchens. That is something we are keen to address, though, and believe there are many people working for smaller, independent kitchen firms that would add immense value to Dream Doors.
The past decade has seen a real trend towards kitchen design. Thanks to the increase in DIY shows and lifestyle magazines that include features on the latest kitchen transformations, consumers have a strong idea of what looks good and what they want. This has meant there are many in the kitchen industry that are only too ready to showcase their design skills.
But when I was first in the industry, kitchen design was done almost entirely by hand. Now, the advent of CAD packages has meant that it is easy for anyone to look like they are a designer and there is an understandable attraction to the sleek, stylish and high-end kitchens available in today's market.
Because kitchen franchising is not design-led and generally caters to a different audience, that is another reason that some in the industry perceive us to be a poor relation.
Our typical customer is 60+, and is more interested in convenience than the latest kitchen trends. If people want that type of high-end kitchen, then we can do that easily. Our top order in 2015 was a £40,000 kitchen, but people mostly want their kitchen refreshed and they want it done in a few days, without the disruption that comes with a full refit.
The 'wrong' customers?
I also think that many kitchen firms are reluctant to work with the customers that franchisors often cater for. While we use all the materials and suppliers that other businesses do, our average order is far less than the industry average, and I believe that some just don't see the value in a project that comes in at around £5,000 or less.
A more high-end kitchen firm could be looking at four times that price just as a starting point, so there's a perception that the lower end of the market just isn't worth the bother.
Yet, franchises give that customer exactly what they want. They have just as much choice of product, a kitchen transformed in days and they get the trust factor that comes from dealing with the actual business owner, rather than someone that is just trying to close a deal, for the highest price possible.
So, as franchisors, we are happy to be the kitchen industry's poor relation, if our progress continues as it has over the past few years. We recruit the best people, give them the best training possible, and all the marketing and sale support they could ever need.
Our average franchisees turn over more than £500,000 each year and our top performers over the past few years have turned over more than £1 million pounds. It's an established model that continues to grow and, despite any snobbery from the rest of the industry, we are proud to be franchisors and are always on the lookout for others to come and join us. Long may the snobbery continue!