Commercial director Chris Hazelhurst explains why TK Components takes training seriously, how it's had great success with apprentices and why it's helping local colleges train students by supplying products free of charge
Training and development is something that's particularly close to my heart and has featured regularly in my KBB career, having spent 27 years at TKC progressing through various roles to commercial director, where I am now.
I began working for the company in February 1990, the same month Nelson Mandela was finally freed and the seemingly invincible Mike Tyson was knocked out. Back then, computer systems weren't what they are now and after sending out £2 hinges rather than the correct 50p versions, one of my first training sessions was memorising 15-digit product codes. I'm sure it contributed to my obsessive nature and I didn't make that mistake again. The click-and-order systems that are now dominant are something I could only dream of back then.
Training at a national level for our industry is an issue that crops up on a regular basis, but I'm not sure there's an easy answer, whether from the Government or an industry body.
We supply nationwide to independent retailers, the majority of which design and install kitchens for the end consumer. Some retailers employ their own installers, although I'd say the majority subcontract and use self-employed local tradesmen on a regular basis. When that's the case, whose responsibility does training become? Ultimately the retailers' reputation and business depends on the finished product they provide. Of course, if the subcontractors want to see repeat business, it's also in their best interest to ensure quality workmanship. Like with most things in our industry, it should be a partnership to ensure that both parties prosper.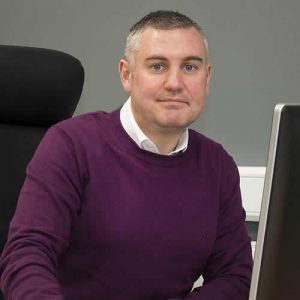 A common misconception I often hear about training in our industry is that it's for apprentices, when it should be for everyone. The new government apprenticeship levy system requires companies with a payroll over £3 million effectively to pay 0.5% of their salary bill into the scheme, but gives them money back to spend on training. It can now be spent on anything, all the way up to supporting Masters degrees, so I feel it would benefit from a change of name to reflect this.
However, the sentiment is one that I think we should all be embracing and ensuring we're committed to training across the whole company and not exclusively younger employees. I wonder if a similar system could work in the KBB sector?
Apprenticeships
At TKC, we do ensure that we focus on what we control, and that's our business and the local area. I'm proud to say that in recent years we offered apprenticeships to three local people, each of whom are now full-time members of staff. Each apprentice has gone further than we could have hoped, and their promotions and awards demonstrate the value of investing in people and communities.
We believe that promoting from within shows a commitment to staff and is a very visible way of rewarding their ongoing commitment. We're planning to use the government levy money to develop more of our staff this year, in particular our managers and the development of succession plans.
It's also vital from both a training and cultural perspective that everyone is approachable in a business because, while confident people will ask if they don't know something, not all of us are the same. I therefore believe in an open-door policy and I've encouraged managers and my fellow directors to do the same. This not only supports individual staff members, but the regular flow of people through the door also keeps me closer to our day-to-day activities. Companies change so much over the years and it's vital that we're all closely in touch with our business.
We are also keen supporters of other forms of training. While we don't install kitchens, we do take our responsibility seriously and have a partnership with one of our local colleges. We supply kitchen products free of charge for them to use as part of their installation training, which helps ensure that the early mistakes we all make aren't too costly. As I said earlier, it's about partnerships. Developing these at a local level has the benefit of both a feel-good factor and, in the case of our college partnership, instilling confidence in our products for future installers.
Responsibility
I believe that if everybody takes responsibility for training, the need for national control diminishes. It's our responsibility to ensure our customers are competent when installing our products. If they aren't, will people buy them again? Similarly, we want our staff to be able to answer our customers' technical queries when they arise and give them confidence. Training and development should be at the core of any business and needs ongoing commitment.
When we looked at our own business, we identified a gap in provision and our solution was to employ a technical and training manager. He's using his industry experience to devise an annual internal training programme to impart that knowledge to more of our team, which will ultimately lead to our customers receiving a better service.
Whoever is being trained, the onus is on them to make the most of it. As a business, we worked hard with our young apprentices but their own effort was also key to their success. Planning and being prepared to invest some time and some money into quality training really does reap benefits for all concerned.
I'm sure we could all do that to start with, couldn't we?