Appliance manufacturer Whirlpool has warned owners of its fire-risk tumble-dryers not to use them while awaiting a repair.
Whirlpool, which owns Hotpoint, Indesit and Creda, previously advised consumers who had purchased affected tumble-dryers from those brands that they were safe to use, as long as someone was in attendance.
Following advice from Trading Standards, Whirlpool has now updated the safety notice on its website.
A statement on its website read: "Trading Standards confirmed, following an internal review by independent experts, that the modification programme remains the most effective way of resolving this issue. As a result, we will continue with our efforts to provide consumers with a free-of-charge modification as quickly as possible.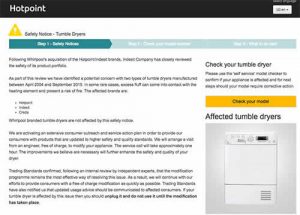 "Trading Standards have also notified us that updated usage advice should be communicated to affected consumers. If your tumble-dryer is affected by this issue, then you should unplug it and do not use it until the modification has taken place."
The tumble-dryers have been linked with a number of fires, including the Shepherd's Bush tower block blaze in August last year, which took 120 firefighters to put out and saw a number of residents rehoused due to the damage caused.
The company warned of a risk that a fire could occur if excess fluff comes into contact with the heating element.
Whirlpool has sent letters to more than 3.8 million owners of affected tumble-dryers, with those registering for the free repair waiting up to a year for the problem to be resolved.
Whirlpool launched its safety notice in November 2015, identifying two types of tumble-dryer manufactured between April 2004 and September 2015. Customers can check if their tumble-dryer is subject to the safety notice through the Hotpoint or the Indesit model checker.
Martyn Allen, head of electro-technical at Electrical Safety First, commented: "We welcome Whirlpool's updated advice to consumers, although we would like to have seen this advice issued sooner. Since this safety notice was issued in November 2015, we have emphasised the importance of not using an affected machine due to the fire risk. Now, we would like to see more visible communication to reach out to those consumers who have yet to respond to the notice. Even with media coverage of devastating fires caused by these appliances, only 1.5 million affected customers have registered the fault, which means many more people are still at risk."