Danish water pump specialist Grundfos has hailed its new Scala2 booster as a major breakthrough in delivering perfect pressure in the home.
WRAS approved, the fully integrated water booster pump comes with a five-year guarantee and provides the perfect water pressure to up to eight water outlets, even with multiple taps and showers running at the same time.
It combines a pump, motor, tank, sensor, drive and non-return valve in one package and can automatically adjust its performance to meet both inlet pressure and water consumption demands.
A built-in sensor constantly measures the discharge pressure so if the pressure drops below the desired level, the Scala2 immediately boosts its operation to compensate for the loss of pressure.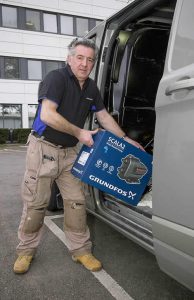 "A lot of investment has been put into this product," Grundfos southern regional sales manager Neal Saunders told kbbreview. "It's a game changer in the market. A recent Grundfos survey found 80% of people suffer variable pressure at the outlets. So there's a definite demand for it. The products that are currently on the market don't always do the job adequately and are quite noisy.
"The Scala2 is incredibly quiet, compact and easy to install. As a whole house booster there's nothing out there of this size. It'll fit nicely into a cupboard space and it's water cooled so it doesn't need ventilation. It's very much plug and go. And at £480, it's well priced and very affordable."
Already available to UK merchants and independent retailers, the pump has a noise level of only 47 decibels, aided by an aluminium casing that reduces vibration.
"For a whole house booster to be at 47db is very quiet," Saunders explained.
"And it's also easy to size. All you need to know is whether it's for residential use, how many floors does the property have and how many outlets.
"But the big thing is that every other product out there is more of a fixed speed, so as you start turning on other taps you'll lose a level of performance. You might start with three bar but as you start turning on other taps that performance drops off. But with this, you'll have constant pressure."