'We see kitchen specialists as a major opportunity for the Glen Dimplex business'

In his first interview as chief executive of Glen Dimplex Consumer Appliances, Andy Griffiths tells Sean Hannam why he's excited about British brands, the smart home and the challenges that lie ahead
Glen Dimplex owns some of the best-known British brands in the home appliances sector, including Belling, Britannia, Stoves, New World and Lec.
It's also a major player in SDA [small domestic appliances] with Morphy Richards and has a big share of the radio market thanks to its Roberts brand.
Late last year, Andy Griffiths (pictured) took over as chief executive of the newly-formed company Glen Dimplex Consumer Appliances.
Griffiths is the former president of Samsung UK and Ireland – he spent 10 years working for the Korean electronics giant – and is now responsible for the Glen Dimplex Home Appliances brands, as well as Roberts and Morphy Richards.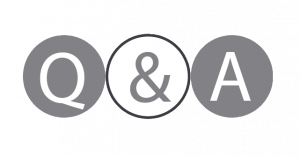 Q: Congratulations on your appointment as chief executive of Glen Dimplex Consumer Appliances – a newly-created division of the Glen Dimplex Group. How does it feel to join the business?
A: Thank you – it's great and it's good to be involved. I'm back up to my neck in an industry that I love. It's a great way to start the New Year, with a big challenge.
Q: You're a few months into the role. How does it compare with working for Samsung?
A: I'm enjoying it immensely – it's a different kind of company and a different kind of challenge. It's not such a big, global corporate structure as some of the brands I've worked for – it's more nimble, entrepreneurial and flexible. I'm enjoying that change in tone and I like the management challenge.
It's driven by my appetite for change – when you've been somewhere for such a long time, you're looking for something to refresh yourself and a new intellectual challenge.
I loved my time at Samsung – they were 10 amazing years. Glen Dimplex is turning the page in its organisation and I see it as an interesting professional challenge.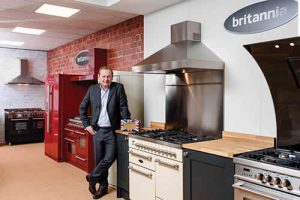 We're taking a number of individual silo companies – different brands and operations – and we're bringing them into more of an integrated, horizontal structure.
Glen Dimplex has the biggest collection of British brands across a number of markets. It's a fascinating challenge – how we make it an even more relevant and interesting business to the British public. There's a huge opportunity to do more.
I know I can make a difference and add value to the good stuff it has and take the organisation to the next level. That's exciting.
Q: Can you tell us more about the thinking behind the new Glen Dimplex Consumer Appliances division?
A: It's a new company – we have a wide number of individual brands. The overall Glen Dimplex Group – in Ireland – had got to a stage where it made more sense to group the key businesses together.
The other main Glen Dimplex business is heating and ventilation – the more industrial and B2B side. I was asked to come in and organise nine different consumer product brands across three markets – consumer electronics, SDA and MDA.
As a combined set of brands – a division – we have a bigger voice and a bigger resource than we do as an individual set of companies. We can organise more efficiently.
Marketing is a key requirement, particularly in the digital age.
By combining and prioritising spends and focusing more on marketing as a bigger business, we can find more efficiency and – particularly in the Brexit world we live in – we can also look for more international opportunities. I've just built a new European organisation to take the whole set of brands forward in a way that's naturally more efficient, because of scale, than it would be if you were approaching it brand by brand and company by company.
The brands have their own personalities in three very different market segments – we want to build on that and help it resonate more strongly.
Q: So what are the opportunities for the Glen Dimplex appliance brands?
A: We have a number of products that are very strong in their markets. We're very strong in cooking and SDA – Morphy Richards is one of the major brands in the market. There's a huge opportunity with our strength in cooking – it's part of people's lifestyles.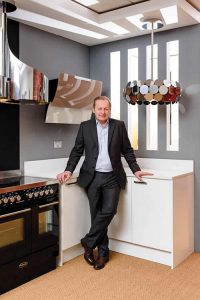 I'm a great one for looking at mega-trends and understanding how people's lives can be further enhanced. We have a suite of range cookers that are some of the most beautiful and best built in the market. Along with our full range of freestanding and built-in cookers, they match the needs of people – the amount of cooking they're doing, the fresh food they enjoy and the healthier lifestyle they're now more aware of. A cooking product has to be fun, well-designed, colourful and a very good cooker.
We're really excited about the growth potential for our cooking products. Abroad, British cooking products are seen as being very well-made. We still have connected products to come.
Q: How important are kitchen specialists for the Glen Dimplex Group?
A: We see kitchen specialists as a major opportunity for the Glen Dimplex business in the future. It's about the suite of products and the business model that we can propose to those guys going forward – they're high-quality, high-value and high on experience. They're the kind of places where people want to shop – we have to follow our consumers and we have to justify the product propositions in those spaces where consumers are actively purchasing. Kitchen specialists will be very important for us in the mid-term.
Q: You've gone on record as saying the smart home represents the biggest profit opportunity in 20 years. Why do you think that?
A: First of all, it's the size of the technology market itself and the ubiquity of people's usage.
If I think back to the '80s, we could only have dreamt of a market that was this size and was essential to the way in which people live – now it's ingrained in everything we do every single day. The scale of the market is impressive and that mass of business is there for everybody to exploit.
Secondly, there is a big switch to the connected home going on now – the smartphone phenomenon has now matured and peaked out. Over the past eight to 10 years, it has taken a lot of the spend from consumers within the technology sector. Now we're seeing a shift back to the home market, with connected implications – the products within a home will talk more intuitively to each other.
Smart naturally evolves into connected – it's a chain that links together and comes as a natural progression from a smart product into something that communicates more readily and does more for you more intuitively.
Q: What's your advice for retailers who are making the move into selling the smart home?
A: You can't ignore it – you need to get on with it, but what it means for you, in your locality, is an important thing.
You've got to build a story to show that you have an expertise and can lead people through the new dimensions of the connected home. That's something that should be fascinating for a lot of retailers who have continuously updated and taken on the next products.
The smart home isn't landing from the planet Mars – it's coming from the research labs of North America and Asia. Don't be scared of it.