Stoke-on-Trent-based Johnson Tiles has revealed a restructure that will see almost 100 jobs axed.
News of the 90 redundancies surfaced following a drop in Johnson Tiles revenue last year from £59.7 million in 2015 to £54.1m.
Part of the Norcros Group, the 115-year-old company has launched a 30-day consultation process, which is expected to be completed by April 7.
In a statement, parent company Norcros said: "We are starting a major reprogramme to restructure H&R Johnson. Regrettably, as part of this restructuring around 90 jobs will be lost."
However, Tile Mountain, which is also based in Stoke-on-Trent, revealed it may come to workers' rescue as it is due to create 70 new jobs over the next three years. It said it would "welcome applications from Johnson's employees".
Tile Mountain is due to move into its purpose-built head office and distribution centre in Tunstall in mid-April.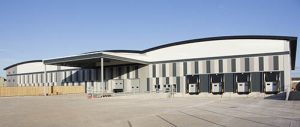 Tile Mountain managing director Jeremy Harris said: "Johnson's Tiles is a company we've enjoyed a great relationship with since starting Tile Mountain and the firm and its products have been a key driver of the success of our business over the past four years. We are sorry to hear of the proposed job losses, but believe that Tile Mountain may be able to offer employment to some of those affected.
"As part of Tile Mountain's investment in the government-backed Ceramic Valley Enterprise Zone, we have committed to creating 70 jobs over the next three years at our new purpose-built 120,000sq ft warehouse, showroom and office complex, situated on the 10-acre site that Johnson's Highgate Works formerly occupied."