'We want to stamp our mark'

After a management buyout just over a year ago, Manchester-based components distributor TKC is forging ahead with ambitious growth plans, driven by ex-Nobia and Everest chief executive Roy Saunders. Tim Wallace went to meet him
When you've asked as many companies as we have how business is going, it becomes easy to spot who's laying on the positivity a bit too thick. But when I arrive at the offices of TKC, the overwhelming air of optimism seems entirely genuine.
Back in December 2015, the Manchester-based components distributor was bought out by private equity firm NorthEdge Capital, a move that saw the departure of founder and managing director Tom Kelly. But the rest of the management team has remained in place and is now led by chief executive Roy Saunders.
Saunders has previous industry experience as the UK chief executive of Nobia and more recently took on the same role at Everest. With a passion for product quality and superior service, NorthEdge saw him as the ideal man for job.
They've clearly also given him a very tidy budget, allowing him to really move the company forward. In fact, TKC is reported to have spent £1 million in the past year alone, including the introduction of 19 new doors last October as part of its biggest ever launch.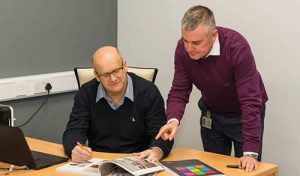 Founded in 1989, the business employs over 100 staff and operates out of the 100,000sq ft, purpose-built premises it moved to in 2007. Its trade counter customers are cabinet manufacturers, independent retailers and small local builders while its team of 11 area sales managers is supported by an own-vehicle delivery network, assisting its 'On Time in Full' performance.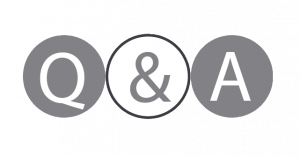 Q: Tell us more about the NorthEdge buyout
A: NorthEdge operate in the small to mid-market and focus on successful businesses that they believe have further potential. The majority of the team that built the business have remained and we've made some new key appointments – a marketing manager from the industry, CFO from eBay, business development manager with 26 years' industry experience and a technology manager.
Q: What's the strategy from here?
A: It's based on growth. We want to stamp our mark. We deal with hundreds of retailers across the country to ensure our range is on trend and broad enough to appeal to our customers' base needs.
The 19 new doors and accessories have gone down really well and are selling strongly. TKC has been historically strong in the North and we've got the capacity to grow substantially across the country. Our strengthened sales force, plans with our On Trend brand, ongoing NPD, system developments together with the imminent launch of an online ordering system, and a CRM system, should really help in attracting new retailers and importantly increasing our average order values with our current loyal customer base.
Q: What's the size of the business?
A: Turnover for the past financial year was circa £20 million and we are profitable and cash-generative.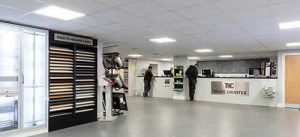 Q: Do you supply to anyone else?
A: We supply to some large B2B accounts, but not multiples at the moment. We think that there are opportunities, but were mindful of suppliers putting a big egg in one basket – for example Mark 2.
Q: How's business?
A: Healthy, despite Brexit. We've consciously decided to continue with our investment plans for £1 million in warehouse and offices, new product ranges, substantially new marketing collateral, people recruitment and business systems.
Q: What impact will Bexit have?
A: We've seen the currency impact and the market-wide price increases resulting from that. Consumer confidence and housing transactions drive the kitchen market, and these two measures have both taken a hit post-Brexit, but it's still a massive market. There's still the opportunity to do well and take market share. Remaining confident and upbeat is crucial.
Q: What are your longer-term targets?
A: There are opportunities for us to increase our average order values with existing customers and find new customers and routes to market in the trade sector. Our plan is unashamedly to grow the business while retaining the core values of TKC and valuing our existing customer base. We also recently achieved FSC status and are currently working on achieving Fira Gold.
Q: Is your role as a distributor evolving?
A: Increasingly, customers want the support of a brand and a retail package that can help them drive business. We're planning to establish On Trend as a consumer brand that'll be sold to these retailers and they will be supported with a full marketing suite. For customers who have or want to develop their own brand, that's fine, we'll continue to be their supplier and help them in any way we can. In addition, we've upgraded and relaunched our new brochure suite recently, which is designed to be easy to use while presenting products and kitchens in a fantastic way.
Q: What do you make of distributors who prefer to 'own-brand' their products to chase bigger margins?
A: We understand it and we're doing it now ourselves as we develop the On Trend brand. If you supply the same brand as three others, why will someone buy from you? Service is something you can prove once you're trading, but if a retailer can buy the same product cheaper elsewhere, of course they'll be tempted. This is a question for appliance suppliers.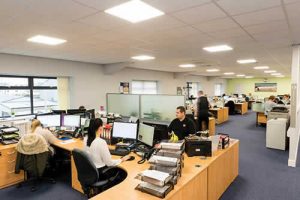 Q: What are you looking for from retailers?
A: We want retailers who want to work with us and who select a small number of chosen suppliers.
If they spread their business really thinly, then they won't know your business or range as well. You need to work in partnership together. Building relationships, and therefore loyalty, is important. We recently launched Inside Track, which is a newsletter for our customers to tell them what's happening at TKC and we have seen far more customer visits to Denton, because we are encouraging customers to come and see us.
Q: What are retailers looking for from you?
A: A product range that covers their customers' needs and moves with trends, is well-priced, profitable for them and backed up with reliable service. If they have to go back to a job three times, it costs them money and that's why we're relentless about service excellence. Our aim is to help them sell more.
Q: Are the multiples raising their game and threatening the independents?
A: Multiples are highly visible and have considerable advertising budgets to help them drive footfall. I think, though, that the independent retailers are in a really strong place. There has been a 'flight to local' move in home improvements with a focus on value for money, quality and service. These are all the areas where, in the consumer's mind, independents tend to score highly. Recommendations and referrals are hugely important in the kitchen sector and the internet has made everything more transparent. The discounting approach of the multiples is coming under more scrutiny and the pricing transparency, combined with often dealing with the business owner, is very powerful for the independents.
Q: What do you make of the volume players in the UK market?
A: The UK market is well represented with volume players. Howdens are clearly the big beast in the trade sector and dominate this space. There's more likely to be movement through value chains, rather than new entrants. The German manufacturers have been trying to access distribution in the UK for years, although it's true to say that some consumers are still attracted to having a German kitchen and as such are prepared to wait for installation.
Q: How do you differentiate your offer in such a crowded marketplace?
A: It's not easy. We value the suppliers who innovate, I won't give too much away, but we are working closely with a supplier at the moment on a product that we believe will offer a point of differentiation in the future. Also, and importantly, I believe that in our space, service can truly be a differentiator.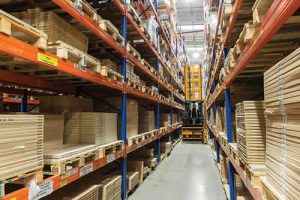 Q: What's exciting you out there in the market?
A: I think you have to be aware of what Wren are doing as a business, though not necessarily from a design point of view. They've gone from nothing to over 50 national stores and their marketing has a real mix of retail, design and pricing influences. On a design level, I see a lot of busy independent retailers, often with a desire to upgrade or refresh their showroom, but simply not having the time. That's why we now offer a showroom design service, where we send someone in to discuss the retailer's requirements and prepare plans for them.
Q: Where did Betta Living go wrong?
A: They had some issues with high rents, but it's often managing the installation where costs spiral. The big discounts approach doesn't seem to be disappearing, whether it's sofas or kitchens, but I do think it's a matter of time as the consumer is ever-more savvy and is armed with the transparency that the internet provides.
Q: Where are designers getting it right?
A: In our market, it's about being able to create a dream kitchen that's affordable. We've introduced lots of component options, that lets people create a bespoke look with an off-the-shelf product. Increasingly, we see more textured products and mixing of materials and, rather than innovation, designers appear to be working more with different materials.