"Our first question is, 'how did you hear about us?' "

Targeted marketing has helped turn Sheffield Kitchen Outlet into a multimillion-pound success story. Managing director Stuart Hattersley (pictured) tells Tim Wallace why 2017 will be a record year for growth
If there's one thing that immediately strikes you about Stuart Hattersley, it's his honesty. In fact, we've hardly sat down before he's offering me a frank assessment of his early years as a kitchen dealer. "Back then, it was high-pressure and poor customer service," he laughs. "We didn't even have a showroom. We used to camp out in somebody's house and they either bought the kitchen or phoned the police."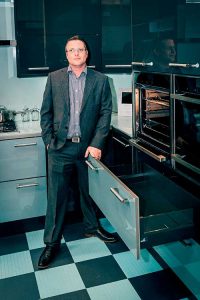 Still only 37, Hattersley has come a long way since then, determined to build a business that's the complete opposite of anything he's been involved with before. Sheffield Kitchen Outlet, he insists, is a company offering "high-quality kitchens at B&Q money". Gone is the high-pressure direct sales environment, replaced by a strategy based on "product, design and price".
He's even open enough to talk me through his order book and marketing strategy, and to explain how he makes his money. "This year, we'll do £5.5 million turnover and make a £1m profit," he says.
"Next year it will be £8m to £9m and £1.5m profit. It's fantastic, amazing. Ever since Brexit, we've had our best months. We're having a record year and currently do about 200 kitchens and bedrooms a month."
Hattersley launched the company back in 2004 with his mum, brother and £25,000 in cash. Originally a trade counter, it was supplying retail customers within a year and now boasts three showrooms. All the furniture is manufactured on-site in Sheffield with Egger, TKC and Uform some of its biggest accounts.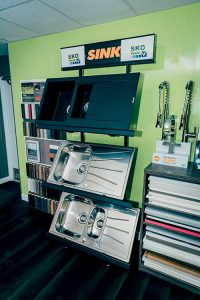 "There's no pressure on the customer whatsoever," he explains, "just good honest advice and the best possible product. They won't be rushed or bullied anymore. With people like Wren, it's all about 'deal on the day', 'leave us a deposit' etc. But we show customers the cabinet they get everywhere else and then what we do instead.
"We can't buy the furniture for the right money, so we make it ourselves. We do colour-coordinated units, PVC edging and 18mm backs. We're also big on German components, Hettich has been a fantastic brand for us. It's all made here. We also do gloss doors, but buy them in. We have a massive customer base across most of the UK – local one-man-band fitters, builders, joiners and developers.
"We also supply bedrooms and bathroom cabinets. Uform's painted wood stuff is fantastic quality and bang on the money."
Expansion plans
The company has recently moved into a 40,000sq ft head office and factory and there are ambitious plans to extend the showroom network from three to 15 stores within the next five years. The next step is to move again, this time into purpose-built premises.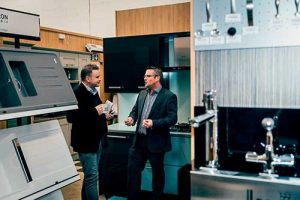 Although SKO supplies to other retailers, Hattersley admits rival Sheffield dealers won't go near him. "They all hate us," he laughs. "They'd rather cut their nose off than deal with us. The problem is, round here we sell a kitchen for what they buy it for. Displays don't cost me a bean. We get everything for free. Suppliers are all fighting to give me stuff free. We work off tiny margins, which helps us with our buying power on the retail side. We're doing big volume and getting some really big rebate cheques with the likes of Neff, Caple and TKC."
Other plans include an online facility, though not in the normal sense. Rather than true e-commerce, customers will order through the website, but then enjoy a superior buying experience to anything offered by competitors. It's hoped this will launch later this year.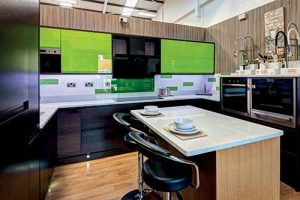 "The customer will get the impression they're buying online but someone sat at their desk here will get the order and we'll ring the customer up and talk them through it," Hattersley explains. "It just puts a bit of a personal touch to it. We can also do a measure, but they'll pay extra for that. We don't want to damage our brand, so we're going to create another one. We'll offer them exactly the same service as online, but with a lot more help and advice."
Ultimately, says Hattersley, SKO wants to pick up where MFI left off, "but do it better".
A company he particularly admires is Oak Furnitureland. "They offer quality products at good prices," he says. "They've got it right. It's good value for money, which is what people want. We'll do more freestanding stuff for kitchens and bedrooms and media rooms, studies. Once we've moved the factory, for the second time in two years, the next phase is more showrooms. We want three a year. It's ambitious but doable."