The UK managing director of Geberit, Mark Larden, explains the thinking behind the launch of its first branded bathroom collection, and how it fits in with the company's long-term retail strategy
With over 150 years of behind and in front of the wall experience, Geberit is this year expanding its know-how into a comprehensive collection of sanitaryware, furniture and mirrors.
This offers customers a complete bathroom solution that meets the brand's exacting quality standards and combines clever functions with outstanding design.
The acquisition of Sanitec in February 2015 enabled the Geberit Group access to unrivalled expertise in the global ceramics and complete bathroom market. This presented Geberit with new opportunities, including access to a number of differentiated market-leading brands in their home territories – Keramag in Germany or Pozzi Ginori in Italy to name but a few. These market-leading brands, including Twyford in the UK, are an important part of the Group's ceramics business strategy.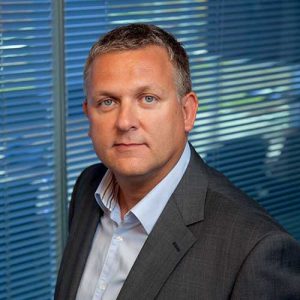 Many may ask why Geberit UK has launched the Geberit branded bathroom collection, although the Sanitec acquisition brought the Twyford brand under its custodianship. The Twyford brand is extremely strong in the commercial market, in housing and in the affordable market. The Geberit brand on the other hand has been very successful in the UK market in the premium retail sector with its frames, flush plates and AquaClean shower toilets and the Geberit brand is renowned for quality and design.
Design Meets Function
Geberit's new bathroom collection perfectly complements its sanitary systems technology while offering customers the design, quality and innovation they've come to expect from Geberit. The new offering is a collection of bathroom suites that range from a medium to premium price point delivering retail partners greater design flexibility and sales opportunities.
Any new product launch should begin with building awareness and the Ideal Home Show was used by Geberit as the platform to preview its bathroom collection to a wide and diverse consumer audience. Before the show began, the company already had agreement with numerous retailers, enabling it to direct consumer leads to them straight away. Market reaction to the launch has been exceptionally positive and the company now has more than 100 retailers that are keen to work with Geberit, and counting.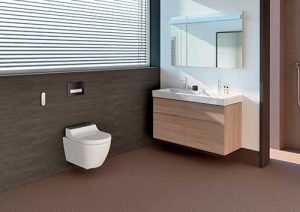 With regards to its route to market, Geberit has announced that it will be working with market-leading distribution partners. Each will offer exacting levels of service to displaying retailers.
Our goal in terms of retail partners is to have more than 200 on board by 2018. Ambitious yes, but we believe that with our product range, our commitment to marketing and our renowned service levels, this goal is achievable.
We will be investing significantly over the next five years to build the Geberit brand as the design-led, value-adding, quality brand for complete bathrooms at a consumer level that fulfils our key promise – Design Meets Function.
This is not an audience that we are new to. Our huge investment in the Geberit AquaClean brand has led to it being the market leader in the European shower-toilet market and we look forward to a similar level of success with the Geberit Bathroom Collection.