Mike White, UK agent for Austrian kitchen brand Intuo, considers the implications of Bathstore's decision to enter the kitchen and bedroom market with a range of products produced by a German supplier
There was a time when a foreign kitchen was a rare animal indeed, restricted to the odd visionary studio. But then legendary ad man John Hegarty, with his Vorsprung durch Technik slogan for car maker Audi, changed forever the way we Brits think of German products.
Wind forward 35 years and the Germans are everywhere and Bathstore is the latest multiple to launch kitchens from Germany.
Should we be worried? Perhaps some of us should. Gary Favell's reluctance to declare the manufacturer could be significant. Independent Nobilia retailers may take heart if they ignore the fact that their own supplier has its own clearly defined direct route to world domination.
At the time of writing, Bathstore's "mainstream high-end German manufacturer" was yet to be disclosed, but the word "mainstream" suggests some of us may have heard of it and that it may have an existing presence in the UK. If so, very interesting.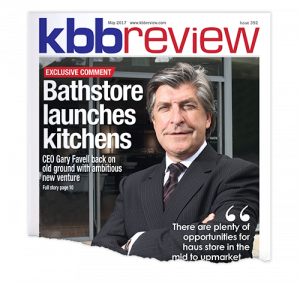 The businesses formerly known as the sheds – and I hasten to exclude Bathstore from this category – have forever been snapping at the heels of trends logically and ably maintained by kitchen specialists. So the marriage between the edge of town and German kitchens is a late, but inevitable, consequence of the 30-year development of consumer perception kick-started by Hegarty's slogan.
So does this mark the end of the world as we know it, unless, to borrow Favell's rather eloquent phrase, they "cock up the installation"? Of course, not. Favell himself recognises that they have entered a market that is "pretty tough, with people like Wren".
Tough is the operative word, so it may be reasonable to suppose that to compete in the multiple-store environment would mean adopting the sector's strategy of attracting footfall with large discounts. It may prove difficult to rise above this, as other "mainstream" manufacturers are also entering the numbers game. There will be bloodshed and they won't all survive.
But I have my own rather off-beam theory. The fact that German kitchens are heading in bigger numbers for the edge of town is a given. People have a pretty good idea of what they will find when they walk into a multiple and I would suggest to Favell that it isn't "upmarket".
So will this move into what some might call the "middle-market" lead to a devaluing of the reputation for quality that German brands have so painstakingly built up?
So what about the independents – Favell's "mama and papa" allusion? Straying off-message a little, it has been argued – and in my opinion correctly – that it is our fault that the public has a less well developed perception of what they will find when they walk through that smaller front door.
The pages of last month's kbbreview were positively over-flowing with handy tips on ways to increase the social media white noise. The sooner smaller kitchen businesses develop their own brand identities, rather than relying on someone else's, the better.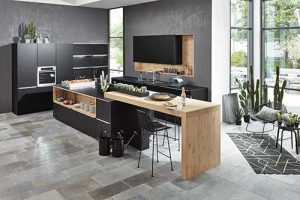 The "mamas and papas" will carry on doing what they have always done in the face of the latest shed metamorphosis – getting better. Smarter retailers might want to look at their product profiles in the face of this latest and impending threat. Given that "service" and "design" are such subjective concepts, what, in the consumer's eyes, will separate their product offer from what they will see at the edge of town? Apart from, of course, the price. If there are no clearly visible and justifiable differences between your product and theirs, you could be a talented design graduate or an old hand with years of experience and still lose the order or suffer margin degradation.
Independent studios could, I suppose, put a cheaper, mid-market kitchen on display so that customers can see the differences for themselves, but this has its risks.
Given the choice, I believe a consumer will always select the best, especially if they can see the differences for themselves without the need for prompting. Not all consumers, however, are either willing or able to stretch budgets slightly, even if the product is demonstrably different – hence the risk in that strategy.
But if the German kitchen market continues its volume-driven march towards ubiquity, it will create more opportunities for those kitchen products that have doggedly maintained a position above the heap. Just maybe they will become the "new" mid-market.