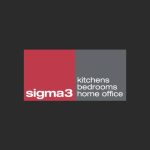 Website Sigma 3 Kitchens
Leading British kitchen manufacturer and retailer.
About Us
Sigma 3 (Kitchens) Ltd – Established in 1975, Sigma 3 is a leading manufacturer and retailer of quality kitchens and bedrooms with 6 showrooms across Wales & England. We pride ourselves on our reputation for excellent quality products and service as well as our close relationships with customers.
We are looking for a driven and enthusiastic Kitchen Designer with the ability to both inspire our customers with exceptional designs and pass on quality files to colleagues. The ability to form friendly relationships with customers is vital as is the requirement to quickly develop your product, systems and design knowledge to deliver a professional service.
We are aiming for significant growth from our showrooms in the next few years and we expect the Design team in store to be a key driver of the growth.
A realistic opportunity to earn an OTE of up to £50,000 based on sales performance, experience and skills set.
Reporting to
Branch Principal
Key attributes required for the role:
·         Design flair – we are looking for individuals who have the ability to inspire customers with exceptional designs. A key requirement is to be abreast of general interior design trends and have an understanding and belief in the benefits of design excellence.
·         Team Player – We expect our Designers to integrate seamlessly into the showroom team.
·         Work Ethic – We expect our Designers to have a strong work ethic and influence the culture and work ethic of the team through example. This is not a 9-5 role! We expect Designers to exceed their objectives and regularly deliver over and above the expectations.
·         Pace/ Intensity – we are looking for individuals who increase the pace and intensity of the team they work with. We expect our Designers to work to deadlines and beat them. A key attribute will be the ability to increase the pace of the overall team through organisation, prioritisation, drive and personal impact.
·         Personal Responsibility – we are looking for individuals who will accept personal responsibility for their goals and the success or failure in achieving them.
·         Competitive – we are looking for a competitive individual who is aiming to be best in class in both the market and within their Sigma 3 peer group. We are looking for this individual to demonstrate this competitive streak through work ethic, pace and intensity.
·         High Standards / Attention to Detail – we are looking for an individual with very high standards and attention to detail. This is particularly important in documentation, customer service and communication.
·         Technical/product Skills – We expect our designers to have a meticulous eye for detail with an intellect to digest and learn a broad range of product and technical information.
·         IT Skills – strong IT skills are a key requirement of this role. Designers are required to work with a range of systems in their role. Therefore, the ability to work at pace on these IT systems is crucial
·         Fast Learner – we are looking for candidates who can learn fast and learn on the job. A 'can do' attitude is vital.
·         Interpersonal Skills – we are looking for individuals that have strong interpersonal skills and the ability to deal people at different levels both within the Company and outside. Our designers should all have good negotiation skills and a capability to understand and empathise with differing needs.
·         Customer focus- We expect our designers to have a Passion for improving the customer experience and the ability to see things from the customer perspective.
·         Strong Values/ Ethics – as a family business it is very important that we treat our Customers, Colleagues and Suppliers correctly. The successful applicant must be able to demonstrate these traits.
The Role:
·         Effectively engaging with consumers and trade professionals to achieve targeted sales figures.
·         Drive recommendation business from your existing client base.
·         Ensure service levels meet the company's requirements.
·         Seek out new business opportunities and proactively find areas of future business growth.
·         Design to the customers brief and sell kitchens and bedrooms to the complete satisfaction of our customers.
·         To develop a working knowledge of the process from lead to measure to design to survey and to fit as quickly as possible and develop a working knowledge of the installation process.
·         To become competent in the various IT systems we operate with on the Design side of the Business
·         To become proficient at all showroom processes and documentation and to take personal ownership of the quality of all information passed to fellow team members later in the process.
·         To encourage and develop a high conversion of real kitchens for use by the marketing team.
·         To meet or exceed target conversion rates.
·         To develop an intimate knowledge of our furniture, its features and benefits and how to sell it compared to competition offers.
·         To develop an intimate knowledge of our appliance, accessories and worktops offer.
·         To meet and greet walk-in customers and correctly demonstrate the product and record lead details in the relevant manner.
·         Visit the customer at their home address to undertake the measure:
–       Establish technical information (i.e. location of stop-tap, gas and electric mains)
–       Build rapport with customer
–       Book the presentation of the design
–       Prepare for the presentation on return to the showroom
–       Design within customer budget
·         Engage with customers in the showroom initially to develop new sales opportunities as well as during the design process to secure the orders for the business
·         Develop relationships with local builders and architects to support future sales opportunities.
·         Complete a check on every customer order (including feedback and changes) before it is passed to the Installation Team for processing.
·         Create high quality customer files to help the Installation Team manage the installation effectively.
Requirements
·       Examples of the key attributes outlined above
·       Previous relevant Retail & customer facing sales experience is desirable
·       Experience of CAD Design is an advantage, although full training will be provided.
·       Good organisation skills and methodical approach to paperwork
·       Customer service focused
·       Strong numeracy and literacy skills
·       Very strong IT skills
·       Car owner with full UK driving licence.
·       Working in this Retail environment it will be necessary to work
weekends, attend evening appointments with customers and to work some Bank Holidays.
Rewards
✓ The rare opportunity to work for the largest manufacturer of kitchens in Wales with an enviable reputation for quality and service built over 45 years of trading. We have exciting plans to take this well-established business to new levels.
✓ This is NOT just a job – it's a career development opportunity within an established team and to be a part of Company growth plans.
✓ It is the intention of the business to grow the individual's earnings alongside profitable sales performance and a realistic opportunity to progress to Branch Principal level.
✓ Competitive basic salary of £18,600 – £24,000 (depending on skills and experience) plus benefits package
✓ A realistic opportunity to earn an OTE of up to £50,000 based on sales performance, experience and skill set.
✓ Minimum 20 days holiday
✓ Pension
✓ PHI (this is an incapacity benefit)
✓ Life insurance
✓ Job security – The staff-retention rate of the company is excellent.
Closing Date:
Apply in writing with a CV to Geoff Moore, HR Manager or e-mail your application to [email protected]