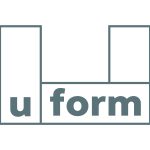 Website kitchen_Stori Uform
Trade manufacturer & distributor of kitchen doors and components
Area Sales Manager
Uform now wishes to recruit an Area Sales Manager for East of England & Home Counties.  We are seeking a dynamic, driven individual to join our team.
Our business is managed from our Head Office in Northern Ireland; however, this role is based in the general locality of East of England & Home Counties.
About our culture: 
As a family business we are proud of our values and our culture, which underpin the way we work alongside each other, our retail customers and our supply chain partners.
Our culture is at the core of our business.  We strive to live it every day through our values of "Openness and Honesty; Respect; Teamwork; and Taking Responsibility". We look for people who can relate to our values and who understand that by creating an inspirational and aligned company culture, our employees will feel motivated and pass that same positive energy towards our customers, who are at the heart of everything we do.
Do you have the right attitude and energy to join our team and have a great career in Uform?
For the successful candidate this role offers an attractive salary and commission structure. This is an exciting opportunity for the right individual, as the company continues to grow and succeed.
The Role:
The main purpose of the role will be to maximise sales revenue from new and existing customers by telephone and direct contact calls to retail/trade businesses.  You will be required to visit customers and manage the relationships and sales.
Main Duties and Responsibilities:
Manage existing key accounts to maintain and increase revenue through promotions, displays etc
Develop new business
Provide a high level of customer service to retail and trade customers
The Successful Candidate should possess the following:
At least 3 -5 years' experience in a sales role as outlined above
Competence and experience in field sales, ideally within a B2B sales environment
Competence and experience in account Growth, generating new business and Key Account Management
Ability to demonstrate strong sales capability with the ability to upsell to customers
Good negotiating and influencing skills
Ability to develop and maintain customer/client relationships and to manage these relationships to meet our commercial and sales expectations
Excellent Communication skills both orally and written
A driven and self-motivated individual with the ability to use their own initiative and work with minimum supervision
Excellent organisational skills including working to deadlines
To apply for this role, please forward your CV to our HR Department, Sharon Logue at [email protected], quoting reference number ASM/0722.  Closing date for receipt of applications is Friday 29th July 2022.
Uform is an Equal Opportunities Employer