Save a third on job postings in 2022
Kbbreview.com has launched a brand-new self-serve jobs page for kbb retailers, suppliers, manufacturers and service providers.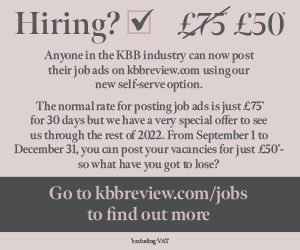 It means posting ads has never been simpler as anyone with a vacancy can manage, edit and change details themselves whenever they want.
To celebrate the launch, anyone can post their ads for FREE until September 1st. Any ads posted on or before that date will stay live for 30 days with no charge.
The normal rate for posting job ads is just £75* for 30 days but we have another special offer that will see us through the rest of 2022. From September 1 to December 31st, you can post your vacancies for just £50* – so what have you got to lose?
Kbbreview has been at the centre of the industry for nearly 40 years and now kbbreview.com/jobs has become a real hub for self-serve recruitment in the sector and you can take advantage of that highly engaged and relevant audience.
And, don't forget, out kbbreview jobs newsletter is sent to our full database every Wednesday.
"We were inundated with applications when looking for our new showroom manager at Olympus. I already knew kbbreview is where everyone goes for news, so I was pleased to see how easy it was to add our vacancy via the self-service function. I would definitely recommend posting jobs on kbbreview.com." Owen Pamphilon, Olympus Tiles and Bathrooms.
*ex. VAT