British Ceramic Tile has announced it is rolling out a new brand identity.
The launch is the result of a six-month project to position BCT as the brand within the tile industry.
A distinctive mark has been introduced to represent the different sides of the business and the "high quality" nature of its products and services.
The hexagon shape will become a symbol of its innovation and expertise and will be applied to packaging and communications material.
The new branding will embed itself throughout the company's communications, as well as its people.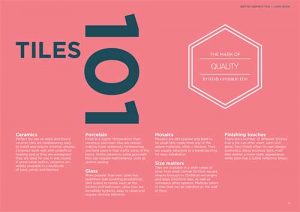 BCT chief executive Tony Taylor said: "We've always been a marketing-focused business that listens and responds to its customers. This project has been no different, with extensive market research and customer feedback providing us with the foundations on which to build.
"We know there is lack of brands within our industry, but that there is a real demand for a company to own this space. We want to be the brand that guides consumers through their tile-buying journey, making the whole process enjoyable from start to finish – a responsive and collaborative partner to retailers and knowledgeable hub of expertise for consumers. If it's about tiles, we're your brand.
"One core theme from our research was our obsession with tiles and service. Our obsession with the quality of our tiles, our hunger for cutting-edge design and our commitment to putting customers first is synonymous with our brand. We look forward to seeing what customers think of our new brand strategy and how it can better support retail sales as we move into 2018."