Damian Walters (pictured), CEO of the BiKBBI, hits back at claims by Trevor Scott in our April issue that the Apprenticeship Levy seems to have backfired and urges retailers and installers to work together to strengthen existing relationships
There's a much bigger picture that Trevor seems to be missing here [April issue, page 25]. The UK is facing extraordinary times, which, with Brexit looming, is causing some uncertainty for both the general public and businesses alike. It is not just about apprenticeships and I think it's way too early to assume that the Apprenticeship Levy scheme is 'not fit for the purpose'.
If anything is failing, it would be the Government's focus on apprenticeships, but let's be realistic here. With the importance of Brexit, it's no wonder education is slipping down the list of priorities, is it?
The success of apprenticeships is far more simple for me. It starts with schools.
Schools are NOT rewarded by Ofsted to promote vocational apprenticeships – but are rewarded for promoting continued educational learning from their leavers – namely, go to college or university and get a gold star. There are no prizes if your leaver opts for an apprenticeship. Should we therefore be surprised that apprenticeships aren't being promoted?
Ofsted needs to reward schools for promoting apprenticeships and that's where the Government can earn some quick wins.
And yes, this does come at a time when all industries, and not just the building trades, are suffering from a massive skills shortage, and I agree, it is the last thing we need.
So what are we doing about it? Well, there's been impressive development of the Level 2 apprenticeship, which is being delivered to apprentices right now. Lots of people in the industry – not just us at the British Institute of Kitchen, Bedroom & Bathroom Installation – can take credit for that.
Is it enough? No. We need a push and I believe the BiKBBI is best placed to do that. We'll be launching our own Centre of Excellence in September, with 40 new apprentices starting a career in KBB installation. In addition, we'll be promoting existing training opportunities, nationally, to our expanding network of installers, retailers, suppliers, distributors and manufacturers. I would welcome interest from anyone wanting to connect.
When it comes to that target of three million apprenticeships, I'm not sure about Trevor's 'Bob Hope', but 'no-hope' seems a possibility! So let's not focus on 3,000,000 apprenticeships. Let's instead break the challenge down and focus on our industry and what we can do to initiate positive change.
If we were to introduce 1,000 apprenticeships within the KBB installation sector over the next year, it would be a great win – but something we haven't managed to do yet. What the automotive, rail and engineering sector manage to achieve is their challenge and problem, not ours.
As for tradesmen walking off site to go and work for a higher day rate, I think that statement is a little generalist for my liking and unfair. There will be those that will follow the money. Why wouldn't they? They have families to support. But equally, there are loyal installers who value their relationships with retailers.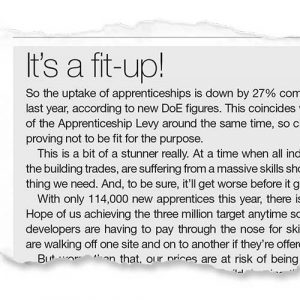 Perhaps the problem here is that some 'skilled tradesmen' – and women – have been treated like a commodity over the years, and will subsequently show as little respect for the business developers, as perhaps they've been shown themselves in the past? Just a thought.
For us, it's all about building mutually beneficial relationships. One business supporting another with a common goal. Commercial success gained through the delivery of a great installation service to the customer. But in this changing world, where installers are kettled into compliance with new regulations and rising costs, why shouldn't they demand better pay?
Relationships
Those businesses that have built great relationships with their installers over recent times will have little to worry about. As for those who have failed to build great relationships with their installers… good luck, you'll be needing it. Perhaps the installer has been 'squeezed' for long enough over the years and now the shoe is on the other foot?
Fact is, where a skills shortage is concerned, the rule of supply and demand applies. As the pot shrinks, those left become more valuable.
What we need to do is ensure the pot is replenished at every opportunity. Growing our own industry, via apprenticeships, strengthening relationships with existing installers and retraining those from other sectors. Retailers would be foolish not to value installer retention, if our research is anything to go by.
As for Trevor's complaint that he has had to get more involved in organising and managing building work, the fact is we live in a 'do-it-for-me' society. Evolve and adapt like the rest of the world. It's like a car garage thinking that consumers should be able to change their own tyres. Rather than bellyache about it, invest in tyre installation as part of your service.
As for your quotes, Trevor, where you estimate the prep but only "accept liability for the actual kitchen installation", I think you will find that if you're recommending an installer, you have a responsibility under The Consumer Rights Act of 2015. So, you either sell installations or you don't.
Like I said at the kbbreview Retail & Design Conference, it's all very well wanting more installers, but without a magic wand, you need to understand why we are where we are and invest in the sector, if you want to reap the rewards.
For the record, I was not "claiming" anything. I was quoting results from The British Institute of Kitchen, Bedroom and Bathroom Installation's survey of its members and non-members in 2017. It appears Trevor doesn't like what the research revealed – but I guess, sometimes the truth hurts, right?
The research revealed that pricing and fair payment terms were important to installers when it comes to retail relationships. Are you seriously surprised?
As an industry, we've got a couple of choices. We can all feel sorry for ourselves, kick the cat and moan about installations as being the bane of our lives. Or perhaps we drop the dated thinking, read, digest and take the time to fully appreciate the research, then consider developing our respective models, with a true understanding of the industry and those installers we wish to engage with.
For far too long, some retailers have viewed installations as a bolt-on. You should be thankful, Trevor, that someone is actually out there asking the opinions of those installers you so dearly seek.
Perhaps if you take the time to understand installers, you may stand a better chance of connecting and retaining their valuable services?
Instead of viewing installations as a separate part of the industry – the bastard relative that no one likes to invite to Christmas gatherings – how about you try embracing it, work with it, value those tradespeople who represent your brand on the front line and bring installers in from the cold and into the family?