New research has confirmed that consumers are going in-store rather than shopping online for expensive purchases. They cited customer experience as the main reason they would rather visit a showroom than have the convenience of online.
A study from Retail Marketing Group found that 67% of shoppers preferred to make big 'life-event' purchases in-store compared with just 20% online.
Managing director Andy Tow (pictured) said: "The fact that shopping can be such a sentimental experience shows just how important it is to create an emotional connection with shoppers. Such rapport is something that online, for all its convenience, struggles to provide."
PwC's 2017 Total Retail Global survey found that 59% of shoppers regarded human contact as the most important part of the in-store experience, Tow pointed out.
He went on to identify five attributes that showroom staff must have to create a better customer experience: knowledge, listening skills, reliability, charisma, and insights. Product expertise, combined with listening to the customers and guiding them to the best choice with industry insights in a charismatic manner, is one way to engage with a customer.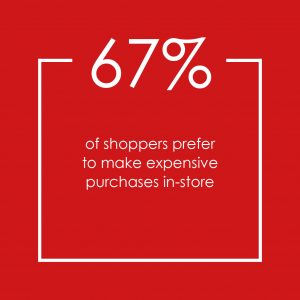 He also explained that while customers want a more personal experience, they still seek to gain clarity on products by looking at specifications online. He added: "Those that will thrive are the ones that provide a personalised customer journey, with the perfect balance between technology and human interaction."
Appliance brand LG has been working with Retail Marketing Group for 13 years. Stephen Sculley, the company's consumer electronics in-store execution manager, said: "A brand ambassador [salesperson] must have the ability to create an emotive, personal connection and be confident and passionate in their demeanour when addressing customers. This is a key opportunity to find out more about them and understand how a product can fit into their lifestyle.
"The overall aim should always be to provide an experience that the customer cannot get elsewhere. Brand ambassadors that understand the shopper, and add to the enjoyment of a purchase, will certainly evoke stronger feelings towards us as a brand."