Criminals used a tractor for a smash-and-grab raid on a cashpoint, partly destroying the showroom of Chris Chapman Bespoke Kitchens and Furniture in Beaminster, Dorset.
The raiders used a fork-lift tractor, stolen from a nearby farm, to break through a wall so they could rob the cashpoint located on one of the outside walls of the showroom.
Showroom owner Chris Chapman was alerted to the situation by a friend who texted him a picture of the tractor on the morning of the incident.
The raid happened at 4.09am on August 18 and Dorset police received multiple reports of the robbery. After the offenders had smashed through the wall, they were seen driving off in a dark-coloured Audi. It is not yet known if any money was stolen.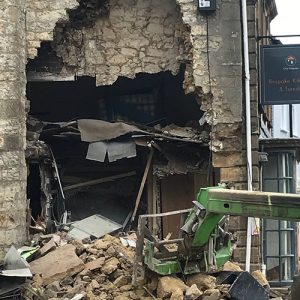 Showroom owner Chris Chapman said: "The damage is quite significant. We are trying to get a surveyor to come in and see the structural integrity of it. It is a Grade II listed building, so no matter what happens, it will be repaired. It will take time as we will need to involve the English Heritage and then the insurance company."
As well as the damage to the wall and the two-storey flat above, a third of the showroom, including the office, was destroyed. The other two-thirds survived but are covered in dust.
The business still has plenty of work in hand fitting kitchens it has sold over the past six months. However, Chapman said: "The impact of this will become more apparent in a few months when we won't have as much work."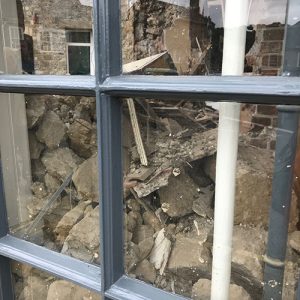 Currently, Chapman and his staff are able to work out of the workshop half-a-mile down the road from the showroom. The company employs around 15 to 20 people, including designers and installers.
The building is currently being supported by scaffolding and a surveyor will be visiting the showroom to assess the extent of the damage.
Detective Sergeant Simon Austin of Weymouth CID said: "A full investigation is under way to identify the offenders involved in this incident."
Dorest police have appealed for witnesses to the incident.