Nobilia GB will officially cut the ribbon on its first UK warehouse on 10 September, underlining confidence in the nation's kitchen market despite the uncertainty of final Brexit arrangements.
The company, which has served the UK contract kitchen sector for about 20 years, said the 55,000 sq ft warehouse off the M62 in Manchester would enable the firm to cut remedial times from three weeks to 24 hours for UK clients.
The warehouse will carry 21 of Nobilia's best-selling UK lines, which would be "ready-to-ship". These lines – collectively described as the Select range – will be the only Nobilia kitchens available to the UK going forward to streamline operations, according to new head of sales Claire Jones.
She said the company's Canada Water showroom has been completely transformed in line with its new UK strategy, now only displaying kitchens from the handpicked Selection range.
Nobilia GB, which works with Taylor Wimpey and Berkeley Group among other UK property developers, said the warehouse was the biggest investment in its history and would carry £1 million worth of stock.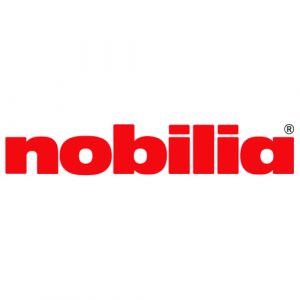 Jones said: "Last year was the best year we have ever had. We doubled revenue from £10 million to £20m. But with more volume, comes more challenges with remedials.
"This prompted our managing director to make the decision to invest in the new logistics warehouse to offer a smoother buying and installation process for our customers and grow volume."
Jones, who used to be a kitchen designer with Harvey Jones, said that with the new warehouse, Nobilia GB hopes to achieve £30m annual revenue within five years.
She added: "None of our competitors are doing what we are doing because it's such a massive financial commitment. We want to become the dominant player in our market."
The warehouse will also stock a basic range called Express 24, which will made up of just two kitchen lines. These will be stocked by Screwfix from November and will offer clients the opportunity to have a full kitchen delivered within a day.
Managing director Keith Barker said that the firm has already sold 300 of these kitchens since it put them on the market through building merchant Arnold Laver at the start of the year.
"Howden's make about £2bn a year in sales on kitchens and their lead times are on average about seven days," Managing director Keith Barker told kbbreview.
"This is the market we are going after and we are offering an Amazon-style service – one-day turnaround."
Barker said that the two Express 24 lines cost about £4,000 including appliances and was aimed at builders and people doing extensions. It was trialled in the Czech Republic before Nobilia GB brought it to the UK and Barker said demand there "exceeded expectations".
If successful, Barker hopes to expand the range and eventually move into an ever bigger warehouse around the corner – almost four times the size of the one Nobilia has just moved into.