The first induction worksurfaces able to power cordless small appliances, such as blenders, rice cookers and coffee machines, could be on the market in the UK by 2020, according to one appliance manufacturer behind the development of a universal cordless kitchen power standard.
Hans Kablau, a senior standardisation officer at Philips, told kbbreview that a prototype of this power standard could be ready as soon as December, and certainly in the second half of next year.
This standard, in a similar way to the Qi wireless power standard for smart phones, will enable cordless kitchen appliances to be switched on wirelessly by transmitters under a kitchen worktop, interoperable between brands and would comply with energy safety regulations.
Speaking to kbbreview on the sidelines of a round-table event on the future of wireless power this week hosted by the Wireless Power Consortium (WPC), Kablau, who is chairman of the kitchen working group at the WPC, said this standard would be key for the creation of a global commercial market.
Leading kitchen designer Johnny Grey, a visiting professor on the kitchen foundation degree at Bucks New University, met with Kablau after the event, which featured the innovation in wireless charging and wireless power since Apple chose to integrate the Qi standard in its iPhone 8, 8 Plus and X models last year.
Grey said it was "exactly the right moment" for the WPC to be working with the Royal Society of Arts (RSA) Student Design Awards to embed cordless kitchen design into a competition brief.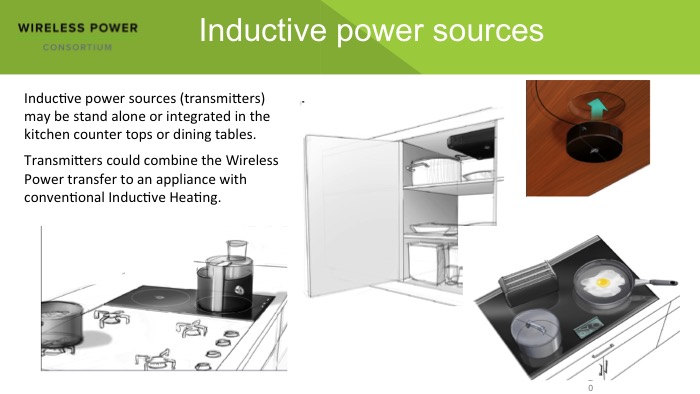 Grey began talking to the kitchen working group of the WPC a few years ago and is enthusiastic about the multiple benefits of a cordless "smart" kitchen, from offering more precise power management and energy efficiency to a greater degree of sociability.
"Why are we still facing the wall and burning food," he asked. "The RSA design competition is about using technology to drive social change. I would think this fits the bill."
The WPC is a not-for-profit group originally set up in 2008 for the purposes of developing the universal Qi wireless charging standard for mobile phones, but its membership and purpose has grown to represent new categories like the kitchen industry.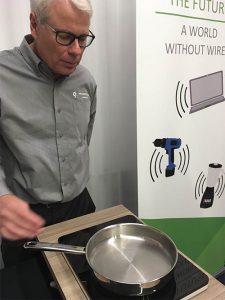 The kitchen working group was set up in 2013 by Philips and Haier, but now members include appliance manufacturers BSH and De'Longhi, along with general technology brands Panasonic and Samsung.
Kablau has urged other segments of the kitchen industry to join the WPC, including showrooms, and help to influence the specifications of the power standard, while suggesting that showrooms will eventually be instrumental in selling in the concept of the cordless kitchen through interactive displays in their shops.
Right now, Ikea is the only kitchen retailer member.
"These companies share a vision that the kitchen could be rid of power cords and become cordless," Kablau said. "We have established a set of commercial requirements, that list out the features for what new specifications should enable, and we've been working on it ever since."
Toby Griffin, KBB consultant and kbbreview columnist
With the massive growth of wireless technologies, such as Bluetooth, wi-fi and Qi wireless charging, Kablau expected the "digital invasion" to go further. He added: "Trends indicate that the opportunity is ripe for wireless power in the kitchen."
In a report out last year, called The Cordless Kitchen: from Concept to Industry Standard, the Wireless Power Consortium called the cordless kitchen "a revolution in food preparation and cooking convenience".
It said a cordless kitchen would entail small appliances and smart pots and pans being turned on by inductive power transfer, in which a magnetic power source that contains a coil to draw power from the mains transfers it via magnetic induction to a secondary coil in the appliance.
The power is then converted within the appliance back into electrical power and/or heat as required. The magnetic power source (MPS) must be able to deliver safely at least 2,000 watts of power to adequately power a kettle, toaster or rice cooker or heat up a pan or pot for frying, boiling, or other cooking methods.
This near-field communication (NFC) technology is "established and inexpensive", according to Kablau, and "safe because communication is one-to-one, meaning that, unlike Bluetooth and wi-fi, it is localised between two particular interfaces, making pairing with the wrong transmitter impossible".
NFC can also transmit data as well as power to make cooking "intelligent".
He said that for a global commercial market to be created, the key thing would be to achieve interoperability, like the Qi standard for phones, which would enable kitchen appliances and transmitters to work together regardless of brand and in compliance with energy safety regulations. This would also need to have an internationally recognised logo.
While Haier has launched a proprietary system in China, Kablau suggested that in general consumers "don't like to be brand-locked" and the achievement of a globally recognised standard would create a market for components and wireless appliances.
But he predicted that to overcome the "chicken-and-egg" challenge, the first entrant to market would likely be a joint venture between an appliance manufacturer, technology company and furniture or worktop manufacturer.
Kablau demonstrated two possible usage cases, the first being where the power transmitter is completely hidden underneath the worktop, on a surface that could be used for food preparation and cooking, which would take "technology completely out of the way". The other option being to use a "smart coaster" – which looks like a giant iPad – as a bridge to make "dumb" cookware and appliances "smart".
Apart from decluttering the kitchen, Kablau insisted that a wireless-powered kitchen would also be much more energy-efficient, with temperatures and timings programmed from recipes replacing analogue heating controls on the cooktop.
He predicted that small apartments in expensive urban locations would be the first beneficiaries of cordless kitchens and that would happen within the next five years.
In the WPC report, The Cordless Kitchen, the group said that the cordless trend had already arrived years ago – with the cordless electric kettle.
It said: "The separate power base concept was such a universally-accepted feature that it is now virtually impossible to find an electric kettle without one. With the advent of cordless kitchen appliances, convenience takes another leap forward by rendering the plug-in countertop powerbase obsolete."