Between the HTML coding, algorithms, expensive websites and SEO it's easy to get confused about how and why you need to use the internet for your business. Vicki Evans has some useful tips on where to start
We all know that you shouldn't judge a book by its cover, but we all do it. In the same way, an untidy KBB showroom can make a customer leave, as can a messy and poorly functioning website.
The internet is often an afterthought or something that retailers feel they have to do, but it should be an important part of your overall marketing and is a great way to drive people into the showroom.
There are universal truths when it comes to websites. Make sure they are easy to navigate, optimised for different devices and uncluttered, but with good use of pictures. Each website must also be tailored to what your business needs.
Your online presence should reflect your brand as a whole. If you pride yourself on being a family business, then do some fun social media posts. If you are high-end, make your website as sleek and luxurious as possible. If you are known for your extravagant designs, write a blog about your style influences. Make sure there is synergy between your brand as a whole and your online presence.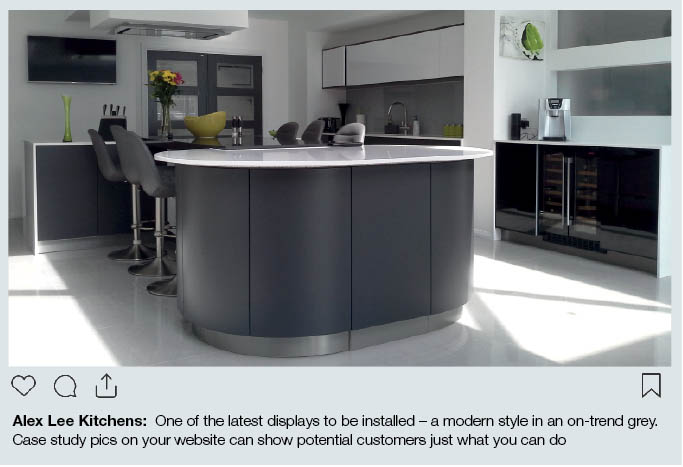 Handmade and bespoke kitchen manufacturer Davonport's website is sleek with high-quality, luxurious images. PR and marketing executive Rebecca Silburn says that this is a deliberate strategy to match the website with the whole brand. She says: "Davonport is high-end and it is an aspirational product, so it is really important that is reflected across the website and social media."
Southampton-based retailer Kitchen Living, on the other hand, has a more informal feel about its social media, posting behind-the-scenes photos of homemade cake, apple bobbing for Halloween or a race between a hot tap and a kettle to see which can make tea the fastest. "We like to show off our personality on social media, because we are a small, family-run business and that is what appeals to our customers a lot," says marketing manager Laura Kelly. "That is the strategy – to use the family, local feel. Doing things that are fun and gimmicky works well for us."
Transparency is key for Alex Lee Kitchens in Rugby, as it is explicit on prices within its case studies and the site is full of testimonials from satisfied customers. Ash Steel, head of marketing, says: "One challenge we have is that we are independent with really nice products, so people think we are out of their price range. We don't want our marketing to look cheap to make us more approachable, so we try to be very transparent with the site."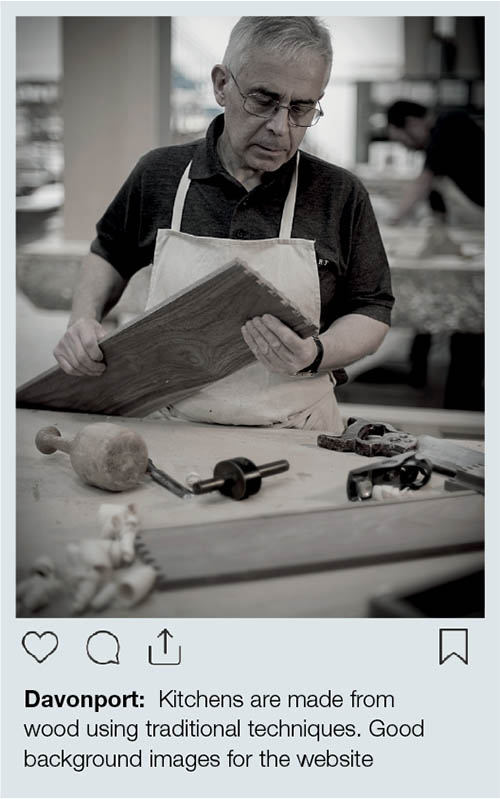 Taking control
All the retailers we spoke to said they previously outsourced their websites, but now they to do it all in-house. Managing the whole online presence gives you more control and Steel says marketing is paramount and should be managed with business goals in mind. He says: "It is not an afterthought it is an integral part of the business."
As a KBB designer, marketing might not be your strength. However, these are skills and practices that you can learn. Because of how fast the internet evolves, you have to keep up with the latest skills and techniques. Kelly at Kitchen Living says she regularly goes to workshops and events to learn new techniques: "Keep on top of the latest trends and take advice from people. There are a lot of free workshops out there and they are really worth doing."
Starting with ground-level SEO (search engine optimisation) tactics and methods will build a firm foundation for your website. Steel at Alex Lee Kitchens lays out some basics to begin with and build upon: "We simply use old-school SEO tactics – nothing overly clever and we don't try to cheat the system. Quite simply, have all of the metadata and the tags sorted. Make the site structure logical and sensible and identify the cornerstone content. Have 150 words of text per page and make sure that you have some keywords. Most of all, focus on the end-user and make it readable and enjoyable."
These are straightforward things that will push your website up the search engine listings and on to the first page of Google search results – you don't want to be on the second page.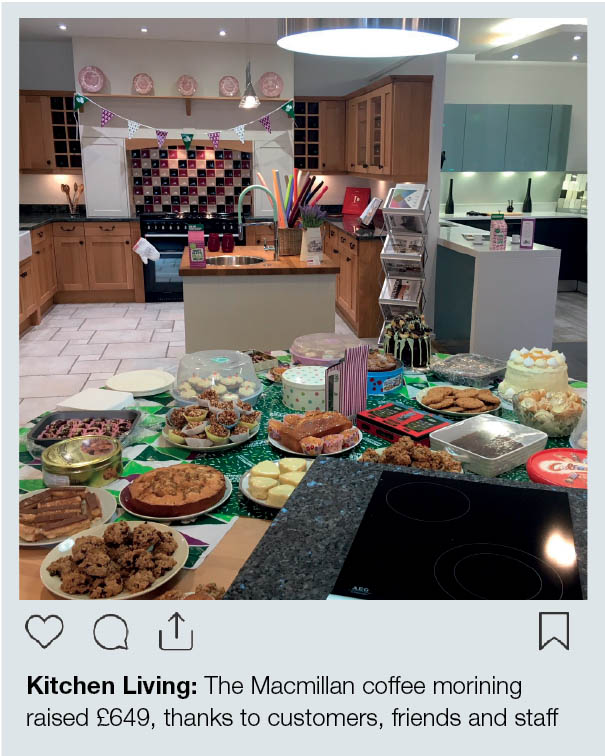 Customer-facing
With all the excitement of starting up or refreshing your website, it's easy to forget that, as much as it is about your brand, the main consideration should be the customer.
The purpose of an online presence is to get people into the showroom and buy a kitchen or bathroom. The website has to be explicit on the basics of your business – the who, what, where, when and why.
Put yourself in your customers' shoes and try to understand what your website or social media pages should look like from their perspective. First, there should be clear contact details and the showroom location, then you can move on to things like an 'About Us' page, customer reviews and case studies.
Kelly at Kitchen Living explains that a customer doesn't want lots of detail, as they can easily get overwhelmed. A customer can be confused by tap brands, tiles, cabinets and everything in between. You want them to make those choices in-store when you are discussing design and can guide them through it. Online a customer should feel inspired to want to work with you and being enthused about the design process is vital. Getting too technical might scare them off.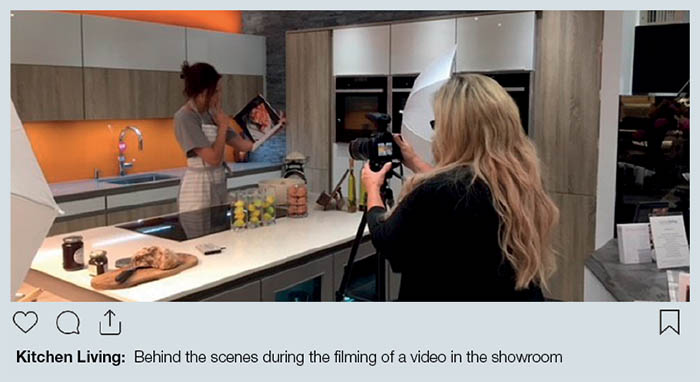 Think about the customer with social media as well, a perfectly curated Pinterest board or an Instagram page with a colour theme or a large community on Facebook and Twitter is useless unless it translates into sales. So, always refer back to the business with website links, location tags and keywords as hashtags to show your services and location.
Davonport's Silburn encourages retailers to get involved with their online presence but advises caution: "Do it and do it properly, because there is nothing worse than a potential client finding your website or social media profiles and it being outdated. I think that destroys any faith you have built with that customer up to that point. Make sure you have invested the time and money needed, as it is all about building trust and a brand. If it is not done well, it can do the opposite."
Davonport's website is unusual as it also features a blog and videos. The video focus is based on the manufacturing process, but in a way that the average customer can understand. Silburn says: "What our managing director, Richard Davonport, wanted was to show how we make our kitchens and for people to see the care and attention that is involved. He thought that the best way to do that, and to appeal to the general public, was by linking it to the customer using the kitchen and making a meal for their family."
"Make sure you have invested the time and money needed as it 
is all about building trust and a brand. If it 
is not done well, it can do the opposite. "

Rebecca Silburn, PR and marketing executive, Davonport
Videos, coupled with blogs, are what Davonport's customers want. However, this may not be as valuable for some retailers and manufacturers. Don't feel jealous of professional videos or perfect Instagram feeds or fancy websites, because if these do not positively impact the business, there is no point investing in them.
Alex Lee's Steel warns against falling down the rabbit hole of online marketing: "It is nice to have brochures and a whizzy website, but you can get bogged down in that. And this is not why you are in business."
The day-to-day, operational marketing – the right social media post or the look of the website – is what people tend to focus on. However, the strategic marketing and the bigger picture has to be addressed first. How will this affect your business as a whole?
"Strategic marketing comes first, and if you haven't got that right, then no amount of operational marketing is going to help solve that problem," says Steel.
He suggests the best place to start is at the beginning and focus on what the company as a whole would like to achieve and work from there. Kelly believes this, too, adding: "I think you get a lot back regarding your brand and how people perceive you."
Look at the business's marketing strategy and where the internet fits into that plan, rather than moulding the company around the internet. Simply figure out what it is you need from the internet.

• See HPP's marketing manager Dan Mounsey on how to make your website generate leads