Technology has seen rapid growth and advances over the years, and CAD software is no exception, reshaping and changing the landscape of the KBB sector as never before. Daniel Fletcher, national sales manager, EQ software gives his view on where the market is headed and reveals the brand's plans to support retailers
How busy retailers are, directly impacts on us as a service provider. A retailer will engage with us more when they have a lot of work on. And we have seen an increase in retailers coming to us.
We've also see an increase in diversification, with retailers exploring different markets, different ways of working like remote working and they want greater access and flexibility. So in 2019 we're going to have to adapt to that and give retailers more flexible solutions.
EQ Software is historically a desk-based system, but the way we're evolving is to extend the use of EQ into cloud-based, hosted environments, which is much more flexible.
And because the market is tough, retailers may have to go that extra mile to secure business, whether with more home visits, meeting people outside of normal working hours, and generally just being more flexible. So gaining access to their business management solution wherever they are, instantly, is going to be key.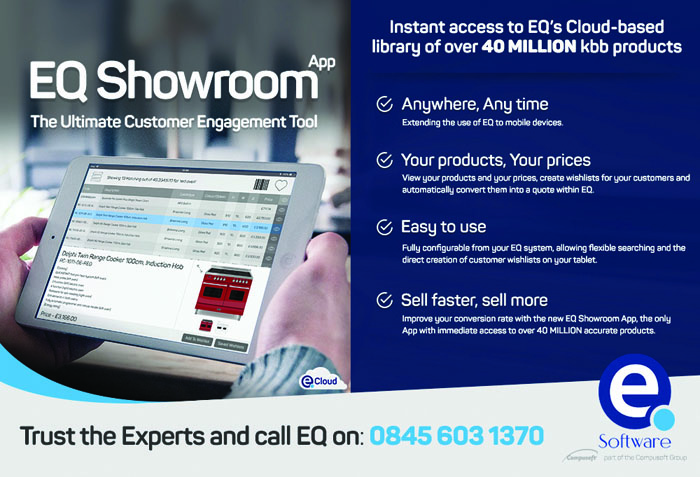 So we've responded to this need by moving our solutions to a cloud environment and this is called 'software as a service (SAAS)'. It's hosted and allows the user to log in remotely. It negates the need for any expensive hardware and the need to employ an IT company.
A cloud-based service is also much more secure than a closed-source application, because everything is backed up with antivirus software, so your important data cannot be lost or compromised.
What we're trying to do is rid retailers of those things that bog them down, like IT infrastructure, freeing them to do what they do best – sell kitchens and bathrooms.
We're going to continue adding to our range of mobile applications that extend EQ away from the desktop. We also have a suite of applications that includes a Calendar and the Dispatch Scanning app to capture signatures, which is aimed at installers, delivery drivers and dispatchers.
Finally, we have the Showroom app, which allows users access to our library of supported catalogues on a mobile device. With this app, we have essentially published our library of 50 million products to the cloud, which allows instant product access to the retailer.
This content has been published as part of a commercial partnership between kbbreview and EQ Software