Higher-value rigid kitchen cabinets, cooking appliances and premium taps will support growth for the UK kitchen market against a difficult economic backdrop, according to new data.
A new report by home improvement and construction research specialist MTW Research suggests kitchen sales could grow by £50 million in a fiercely competitive market where aggressive online retailers are creating price deflation in the mid-market segment.
Commenting on the findings, MTW director Mark Waddy said kitchen designs are becoming more complex and nuanced than ever as consumers seek enhanced personalisation of their kitchens rather than traditional 'off-the-shelf' solutions.
Meanwhile, compact urban homes, which have open-plan spaces are also fuelling growth of the 'unobtrusive kitchen'.
"Sophisticated consumers know that the old binary choice of 'traditional' or 'modern' kitchen design is defunct," said Waddy.
"The kitchen market is more complex than ever in terms of design, specification and purchasing criteria and several kitchen suppliers have fallen foul of rapid trend changes recently."
Based on data from UK companies reporting more than £180 million profit, the report finds that the 'connected kitchen' is driving value growth in the luxury kitchen market, with this impetus steadily filtering into the high-mid market.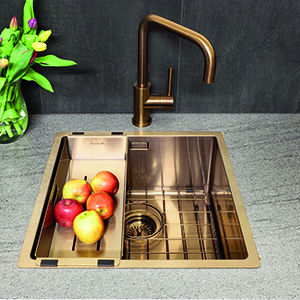 Smart extractors, voice-activated hobs and in- cabinet smart speakers are just a few examples given that illustrate how kitchen retailers are integrating technology with kitchen cabinets, worktops, taps and appliances to differentiate kitchen designs.
On distribution trends, MTW has identified a "discernible shift" in kitchen distribution.
"Kitchen retailers have mostly won the battle against the sheds who are repositioning to more traditional DIY market positions," Waddy said, who suggested that the lower-value sector will struggle this year as the battle for business between DIY channels and online retailers heats up.
He warned that this could have "profound" implications for kitchen suppliers  with poorly defined market positions.
He also suggested that the problems in the mass market would be compounded this year by the 'kitchen refresh' trend, with cost-conscious consumers opting to switch out doors, handles and taps rather than undertake larger-scale full kitchen refits.
Waddy said that overall, the 170-page report depicted a cautiously positive kitchen market in 2019, though suppliers and retailers clearly need to identify the increasing number of pitfalls evident.
On a more upbeat note, MTW is currently predicting real-term growth to return to the market in the second half of 2020.