Matthew Lang, the managing director of Vestel UK, has told kbbreview he is "very pleased" with the inroads Sharp has been making into the domestic appliance (MDA) market in the UK, but called for some certainty over Brexit.
Sales of the brand's ovens, washing machines and fridge-freezers were up 60% in 2018 compared with the previous year in a flat market for MDA sales.
Overall, Sharp sales were up about a third (35%) year on year in the UK and Europe, which Lang said was "pretty much on target" and predicted that Sharp sales this year would grow further.
Speaking on the first day of the 2019 biennial German trade show LivingKitchen in Cologne, Lang said: "I can't make plans about Brexit because I don't know what is going to happen, but I can plan for growth."
But Lang admitted that the unresolved Brexit process was casting a shadow over the business and economic landscape.
He said: "Most manufacturers would say that the uncertainty created by the whole ongoing Brexit process makes growth in our industry quite difficult.
"Most businesses and most individuals are postponing big decisions and putting in a new kitchen is usually a big decision."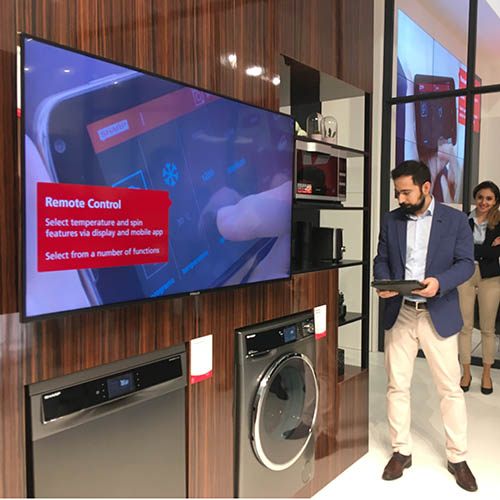 Lang said the business had "done as much as they can" to plan for a worst-case Brexit scenario, bringing in about three month's worth of stock to the UK from its manufacturing base in Turkey.
Typically, the firm would run about a month or maximum six weeks' worth of additional stock in inventory.
"We have been seeing our partners, big retailers, distributors, buying groups – anybody with a reasonable degree of foresight – all looking to bring in more stock because none of us know what is going to happen," Lang said, speaking before Tuesday's key parliamentary vote.
But he said that there was also "caution" about the level of stock businesses were holding because of the risk of it going unsold.
"None of us wants to end up with one or two years of stock because that kills the business. It's business 101.
"It's a very uncomfortable situation for everybody, driven entirely by the absolute uncertainty."
Lang's message to Government was unequivocal: "Give us certainty. Businesses can work with certainty. Businesses cannot work with uncertainty."
Even if that means the UK walking away without an agreed deal, Lang is adamant: "That's for the politicians to decide. It's in their hands.
"All we want is certainty. Give us clarity and certainty. We will work with any outcome. That's what business does."
Lang was speaking after Sharp's press conference, where it launched its new Alexa-controlled smart range of appliances, including a 75-litre oven, a four-door American-style fridge-freezer, a 15-place setting dishwasher and 10kg washing machine.
It also launched a number of other new products, including its new TasteMaker fridge-freezer, which has a convertible freezer zone and gives users the option to ferment different foods and beverages, including yogurt, kefir, bread dough, pickle, wine and beer.
Sharp's VacPac Pro fridge-freezer, which features an airtight sealer for food and was launched at the annual Berlin trade show IFA last summer, was also on display, as was a new range of brightly-coloured, retro-inspired fridge-freezers that Vestel UK brand communications manager Rita Balestrazzi called "an exciting new line of business" for Sharp.
Built-in cookers were another focus, with chefs on hand to demonstrate the brand's recent oven innovations, while a new induction hob series was unveiled for the first time.
This included a 600mm plug-and-play cutout model with touch control that allows users to redesign their kitchens with no costly installation or hard-wiring.
"Give us certainty. Businesses can work with certainty. Businesses cannot work with uncertainty."

Matthew Lang, MD. Vestel UK

Sharp is betting that these "great products" will support growth in 2019 in a rocky market.
As for the aggressive entrance of Chinese companies into Europe through acquisitions, including Haier's recent purchase of Hoover Candy, Lang would not comment. "We focus on our business," he said.
Meanwhile, Lang suggested that depending on what happens with Brexit, Sharp could look to make pricing even more competitive. But if sterling "took another pounding", then Sharp would have to respond.
"That's out of our hands," said Lang, but added: "We want to offer the best possible price to our retail partners and as a business the way we are doing that is becoming a much more effective and efficient business partner.
"We have improved processes. We have better management, and we are doing everything we can to support our partners grow their businesses, whether that is in store, online or on mobile."
This has meant significant investment in growing Sharp's digital marketing collateral and in-house content team to offer retailers best-in-class digital content, including 360-degree videos that retailers can use in-store.
"This is one of my top priorities for the business," said Lang. "We don't sell anything to the end consumer directly, so we absolutely have to trust and encourage our partners to portray our products in the best way possible, and do everything we can to support that."