Asia is leading the way in the adoption of smart appliances and analytics specialist IHS Markit has reported that one-in-four major appliances shipped in Asia in 2018 were internet-connected.
The report also predicted that shipments there will more than double between now and 2023 – at a compound annual growth rate (CAGR) of 107.5%
Liliana Alvarez Temix, a senior analyst at IHS Markit, attributed this to "a strong increase in major home-appliance production in Asia, along with high-speed innovation processes and more competitive price strategies, are key reasons the smart home-appliances market is growing in the region".
Temix added that "an important sales motivator for smart ranges is peace of mind: using the device's remote management features, consumers can immediately see the status of their ranges and respond accordingly from afar".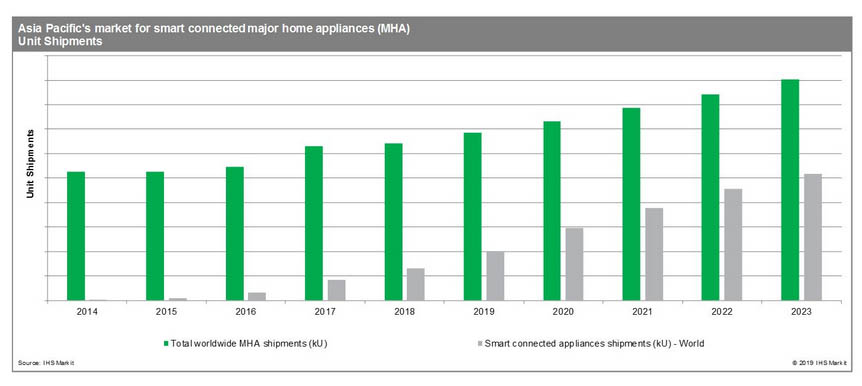 IHS Markit warned, however, that despite the growth of apps to control appliances from smartphones, " the apps for these devices have so far offered only limited features, like appliance status updates and the ability to cycle power on and off remotely. Despite this shortcoming, appliance makers are moving fast to implement features that will inspire and promote brand loyalty".
In another report from IHS Markit, it predicted that the global connected appliance market will soar from just one million units shipped in 2014 to more than 220m units in 2020. It attributed this steep increase to the high rate of adoption of smartphones, more tech-savvy consumers and the growing need for energy-efficient appliances.
The Asia Pacific region, it said, was the biggest market for smart appliances, with 1.9m units in 2015, compared with just 228,000 units in Europe and 888,000 in the Americas. China alone, said the report, will represent more than 80% of total world smart appliance shipments, followed by the USA at just over 10%, India, Japan, Germany, France, the UK and South Korea.
IHS Markit also estimated that by 2020, more than 470 million connected major appliances would be installed in homes globally – up from 1m in 2014.
The latest report concluded: "Appliance manufacturers need to make sure the new smart functions they offer consumers actually result in a better user experience. That way, these features can be used to persuade consumers to buy smart appliances and actually connect them to the Internet, after they bring them home."