As appliance firms take ever bigger strides in bringing new innovations to market that move the connected kitchen forward, it seems demand – at least in the UK – for a smart kitchen range is still relatively weak.
Of more than 6,000 British people interviewed recently by media agency Mindshare to identify the new type of smart technology they would most like to own in their home, just 37% said they would be interested in the concept of a smart fridge that suggests recipes based on the food inside.
A similar number (34%) said they would consider buying a kitchen appliance that can connect and be remotely controlled by smart speakers and/or voice assistants, like Amazon's Alexa, Apple's Siri or Google's Assistant.
The data, analysed by RecycleZone.org.uk, showed that a smart thermostat, which automatically adjusts based on an individual's body temperature is the most in-demand household smart-technology device (46%).
In contrast, a smart kettle that can be controlled by a phone is the smart- tech product Brits are least open to purchasing and using (30%), the survey found.
Equally, just 30% would consider fitting smart shelves that can automatically and conveniently reorder items as soon as they run out.
Analysts at IHS Markit said that last year, 89 million connected major home appliances were expected to be shipped globally – up from 51 million in 2017.
Blake Kozak, principal analyst, smart home and security technology at IHS Markit, predicted that by the end of this year one out of every six major home appliances shipped globally will include internet-connectivity features.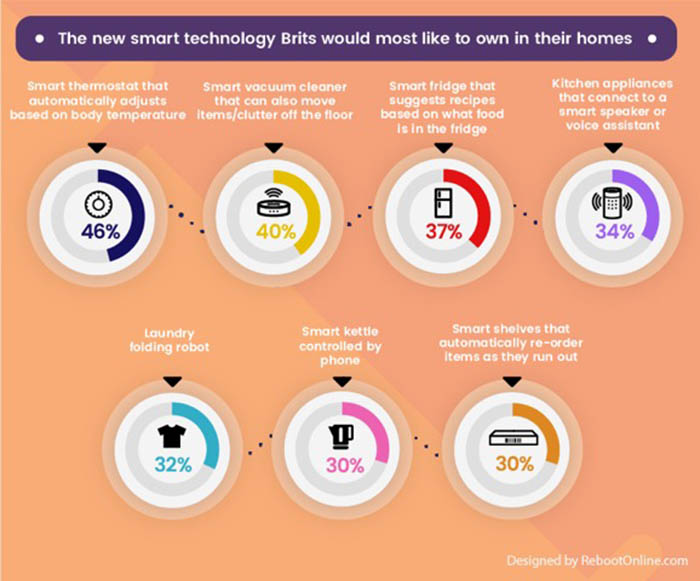 He believes growth will be led by sales of connected room air conditioners.
"Although designing useful and engaging experiences for the consumer, beyond basic functions, has been an ongoing struggle for appliance manufacturers, there were many advancements in 2018," he said.
Appliance makers are also becoming more agile, as they embrace IoT (internet of things) concepts. Many of these advancements have focused on the kitchen, where cooking appliances and refrigerators are simplifying the cooking process.
"In addition, many of the guided experiences offered by leading manufacturers to aid food storage include deep integrations with recipes, local grocery stores and camera analytics.
"Appliances will soon play a larger role in the overall smart-home market, rather than being a siloed segment. This evolution could include the ability of all appliances produced by one company to be controllable through a single mobile app, or by linking major appliances with energy companies to monitor energy use, or leveraging local battery storage from solar panels to incur cost savings."
He acknowledged that hurdles remain in convincing consumers to connect appliances to the internet, but added: "As connected appliances become more mainstream and prices fall, and as manufacturers develop use cases on-par with consumer struggles, it won't be long before almost every household has at least one appliance that can be controlled from a home computer or mobile device."
A number of major appliance firms brought out new smart-kitchen products at the latest CES show in Las Vegas, including Whirlpool, LG and Samsung, as they race to grab market share of the digital kitchen.
Kozak said manufacturers were keen to showcase their take on guided cooking at CES 2019 and forecast AI-enabled cooking displays, like the one featured in the Watch&Touch oven from Candy, will soon be an integral feature in all types of household cooking appliances.