Ideal Standard, has unveiled new products in collaboration with Italian design studio Palomba Serafini Associati at ISH 2019.
The partnership, which was first announced last December, sees Ideal Standard take inspiration from previous iconic products to create new, contemporary collections.
Torsten Tuerling, chief executive of Ideal Standard, said: "We've looked back at our iconic designs, analysed their intrinsic value and thought about how to transform them to suit modern society – both in terms of aesthetics and functionality."
The new collection comprises a range of ceramics and fittings, as well as furniture and a bathtub, and sees a return to the use of colour.
Highlights include the Conca basin collection, which reinterprets a classic design for the modern era. It takes its inspiration from the original, designed in 1972 by Paolo Tilche – a range that signalled a shift from pure practicality to a combination of form and function in the bathroom. The traditional rounded basin has been revamped with a minimalistic square design.
Also adding variety to Ideal Standard's offering is the new Extra basin, a simple square design with sharp edges.
The designers have also added to Ideal Standard's toilet and bidet portfolio with the creation of Blend Curve, which is available in wall-hung and back-to-wall options for both toilets and bidets.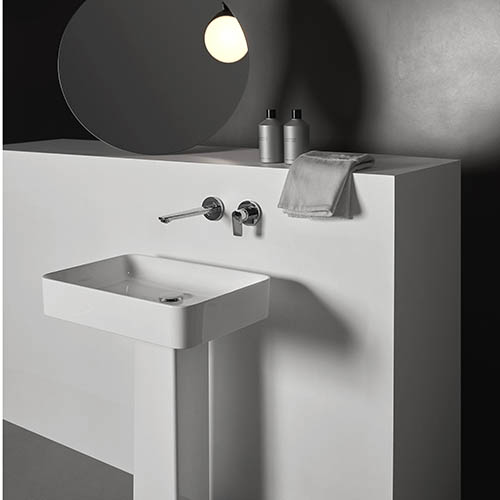 Two new tap fittings have also been designed, the first of which is Check, a wide, square design with an exceptionally flat basin mixer and a thin handle.
Meanwhile, the Joy design offers a slim variable that comes with a choice of three different handles.
Ten new ceramic colours have also been introduced to the collection – including Black Gloss, Slate Grey, Kashmir, Sage and Pomegranate. Some colours hark back to historical Ideal Standard designs, but with a contemporary, elegant finish, while others are entirely new and have been designed to complement popular modern materials, such as marble and stone.
The new colour palette will be available on Ideal Standard's Ipalyss basin in Q3 2019 and on Conca when it launches in 2020.
Commenting on the new collections, Roberto Palomba (pictured above)  said: "We're so proud to finally reveal the results of our special partnership with Ideal Standard. Our approach was simple: quality, intuitive design that gives a nod to the past, while providing the simplicity, purity and elegance that Ideal Standard has become known for and is desired by modern society.
"We've also pushed boundaries with the introduction of colour to the ranges. Looking back, the language of colour has been present in many of Ideal Standard's designs and has been central to their success. Now, we want to introduce colours that revolutionise the way of thinking about the style of a bathroom, with shades such as Mink and Powder Blue evoking not just a simple colour, but new, inspired worlds."